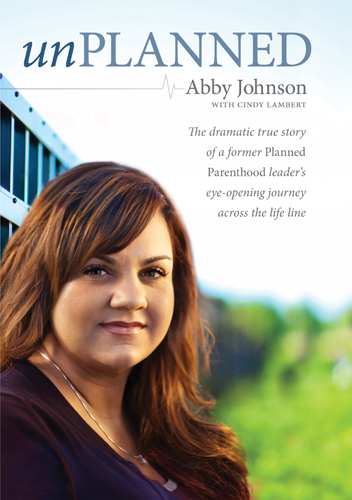 Abby Johnson, committed director of a Planned Parenthood clinic, participated in her first abortion after eight years with the organization. Watching the baby struggle and then be sucked up into a tube changed Abby's life forever. Nauseated and disillusioned, she decided to quit.
UnPlanned follows Abby, a Christian university student, as she entered the work force.  It shows how idealism and manipulation got her involved with Planned Parenthood "to prevent abortions" and "to help women."  It also mentions what else in Abby's life influenced that decision.
At first Abby was happy to be using her counseling skills to support women in crisis pregnancies.  She felt that she was making a difference, and was happiest of all when a client chose adoption instead of abortion.  However, she was disillusioned when Planned Parenthood policies turned out differently than she had expected.  When Abby got to know the protesters on the other side of the fence, she was surprised to realize that they, too, wanted to help women.  She thought their approach was wrong… until that fateful day when she was called into the exam room to help with an ultrasound-guided abortion.
Soon after that, Abby fled to the Coalition for Life office for help.
When Abby quit her job, Planned Parenthood's response catapulted her into the news, spreading the graphic horror of that one abortion, as well as the policies of Planned Parenthood, across the USA.
Now Abby supports women and their babies.  At her former clinic, she works with the Coalition for Life on the other side of the fence.  Online, she ministers through her website.
Having grown up in a strongly pro-life family, I knew the details of abortion procedures as well as the deep emotional conflicts workers in an abortuary may face.  Someone who has been more sheltered will find Abby's story both shocking and illuminating.
It's time that more people become aware of what actually goes on, daily, in most large cities, at the rate of one US baby killed every 24 seconds.   I highly recommend UnPlanned as an insightful peek into the abortion industry from both points of view.  It will help you understand the wide range of motives that galvanize people, and thus equip you to do your part, whatever that may be (prayer, fundraising, education, activism, politics, counseling, adoption, or simply caring for the little ones God has given you).
To understand what changed Abby's opinions, job, and life, you can read the dramatic first chapter here.
Disclosure: Tyndale House provided me with a copy of this book in exchange for my honest opinions.
This is my 7th book in the 52 Books in 52 Weeks Challenge.