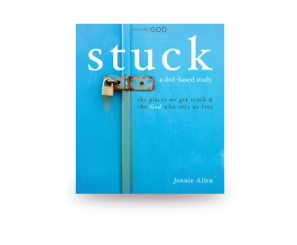 Many of us are 'stuck' in various places in our lives.  We may be Christians, but we don't understand how to apply God's Word to our everyday struggles.  This leaves us in despair and greatly hinders our service to God.  Jennie Allen, a wife, mother, and seminary-trained Bible teacher, has prepared this relevant, practical, and intensely real Bible study to help women "to deeply consider truth and how it applies to their lives."
Jennie pours out her despair at being 'stuck' in so many different ways: mad, sad, overwhelmed, broken,  and more.  In each case, she finds answers, strength, and comfort in the Bible.  With passion and feeling, she shares both the 'stuckness' and Biblical solutions.
Each section of this study includes both a high-quality DVD lesson and a chapter in the Study Guide.  These resources reinforce each other.  In the DVD you can sense Jennie's pain and how the Bible impacts her, while in the study she challenges women dealing with these issues, guiding them through Biblical truth and practical applications.
Not only does Jennie expose despair, she also clearly points out sin and helps women actually deal with it.  Everyday 'OK' isn't good enough; Jennie points to God and his standards.  Although the solutions to sinful thinking and acting may not be easy to implement, they are easy to understand, practical, radically Biblical, and truly liberating.  There are no pat answers, though.  Obeying God is not a quick fix to a perfect life, since heaven is not right here and not right now.
Stuck: The Places We Get Stuck and the God Who Sets Us Free speaks to the heart as well as to the mind.  No one can hide behind theology or the 'right thing to say,' for Jennie makes each lesson intensely personal.  She helps us to understand our own minds and hearts, and then shows God's answers from the Bible.
Here is one key to living 'unstuck' lives:
"As God is exalted to the right place in our lives, a thousand problems are solved all at once." A.W. Tozer
Stuck: The Places We Get Stuck and the God Who Sets Us Free may just be the answer to questions you or a loved one have. I highly recommend it.  In fact, when I saw the review sample, I immediately tried to order the complete study for someone I love. Since it is not available until October, I just passed on the DVD and sample chapter I received.  May God bless this study in the lives of many women.
Disclosure I received a sample chapter and DVD of the Stuck Study courtesy of Thomas Nelson and Graf-Martin Communications, Inc. The DVD-based study will be available October 2011 at your favourite bookseller from Thomas Nelson.
For more inspiration, visit Women Living Well Wednesdays.