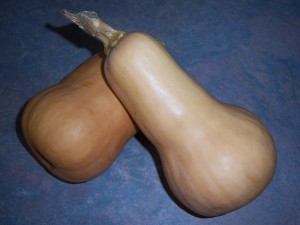 We grow so much butternut squash that it has become our ultimate convenience vegetable.  Here are our two favorite ways of preparing
it:
The Simplest, Tastiest Way
Wash the squash
Puncture the skin, as you would for a baked potato
Put it in the microwave on a plate
Depending on the squash's size and your microwave's power, microwave it for 10-20 minutes until it is fork-tender
Cut it into slices
Enjoy
Because our squash is organic, some of us eat the skin; others peel their slices at the table.  Those who get the seedy end scoop out the seeds at the table.  Really, it's no more effort than deboning a pork chop.
Not only is this method the easiest, it is also low in calories.  When we don't know what else to eat as a vegetable, we eat a squash.
The Next Best Way
When we want things to look a bit fancier, we
prepare the squash following steps 1-4 above
mash the cooked squash,
add butter, salt, and pepper to taste, and
serve it in a casserole dish.
For more recipes and inspiration, visit The Ultimate Recipe Swap, No Ordinary Blog Hop, Encourage One Another Wednesday, Women Living Well Wednesdays, Works For Me Wednesday , and Raising Homemakers.