As they hunt together deep in the jungles of New Guinea,  Wambu learns jungle craft and the ancient stories of spirits and magic from his father.  But Wambu has discovered the power of the white man's magic from a former villager, Hassewiets.  When he and his father find a little fugitive girl, Sirja who is a new Christian, the witch doctor wants the villagers to eat her.  He is desperate to keep the old customs, especially cannibalism, and will go to any lengths to preserve his power….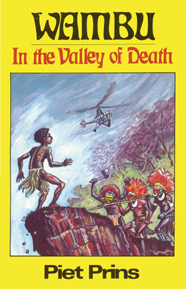 After the fierce cannibals of Kitoe destroy Wambu's village, an impressive ceremony is set up to adopt Wambu and the other children into their tribe. But Wambu risks his life to avoid growing up a cannibal and runs away to find help to free the other children.  With the miraculous intervention of Sirja's Jesus, Wambu evades the men of Kitoe and sets out to find the white man.  Enemies, disease, the jungle, and the spirits close in on him and death seems inevitable.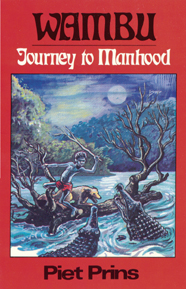 At death's door, Wambu is brought to the mission.  Slowly he heals and when he learns the new language he finds out more about Sirja's Jesus.  Even so he cannot not escape the grip of the past, especially when he meets a distantly-related witch doctor.   Now what will happen to his plan to free Sirja and the other children from the cannibal village of Kitoe?
Skillfully told by the author of the popular Scout series, Wambu's gripping story tells about sin, evil, and God's goodness, as well as about jungle life, hunting, and the customs of the aborigine people of Papua New Guinea. 
I read the Wambu trilogy aloud to my children, just like my father read them aloud to us many years ago.  They are thrilling stories, full of tension of all sorts.  The books were, at times, difficult for all of us.  Because they portray life among the headhunters, they are emotionally wrenching.   However, confronted with the politically correct idea that missionaries destroy cultures, the children need to see that some cultures are evil and terrifying and that the people are overjoyed to leave the darkness and death behind.
We highly recommend the Wambu trilogy for its exciting story, the glimpse into missionary work, and the vivid description of Papua New Guinea. Although technically the three books Wambu: The Chieftain's Son, Wambu: In the Valley of Death, and Wambu: Journey to Manhood could be read independently, they are more enjoyable when read in sequence.  This trilogy makes a superb family read aloud for ages 9 and up, and is inspiring to adults as well.
Wambu: The Chieftain's Son, Wambu: In the Valley of Death, and Wambu: Journey to Manhood  by Piet Prins are available from Inheritance Publications. 
Disclosure: Our children received these books from my parents many years ago.
– This review is linked to Read Aloud Thursday.