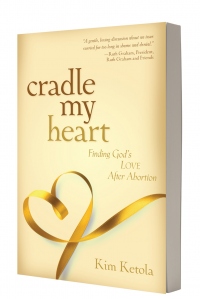 There are is always at least one victim in any abortion, and that is obviously the baby.  Often, however, the mother is a victim as well, a victim of her partner, friends, and family; of misinformation from her doctor or the press; or of her own panic.  Whether a woman chose an abortion or had it forced upon her, she will eventually come face to face with what she has done:  she has killed her baby.
Then the question arises:   How can God love her after that?
Author Kim Ketola addresses women who have had abortions and shows them the good news of God's forgiveness and love.  In Cradle my Heart:  Finding God's LOVE After Abortion she addresses the guilt, shame, emptiness, pain, and devastating loneliness women often feel after abortion.  Choosing abortion, Kim says, is choosing silence, for the pain of mourning a baby you've killed yourself is private and hidden, not acknowledged by society, and frowned on by those who say that it wasn't a baby anyhow.  Kim knows all these emotions, because she herself had an abortion and covered it up for years.
Using modern stories to introduce ten Bible passages, Kim explains God's love, grace, forgiveness, mercy, and compassion.  She discusses the post-abortion stories of other women, and then gently leads the reader to prayer, an understanding of God's word, and praise.  She explains repentance and points out very practical ways of living the Christian lifestyle, suggesting Bible passages to read, audio Bibles to listen to, and songs to learn.  She also gives wise and compassionate advice on how to find a church and who might be suitable to confide in.  Every page of Cradle my Heart shows repentant post-abortive women that there is hope, and that it begins at the foot of the cross.
A long and detailed list of resources enables women to find the help they need.  A study guide for the book helps them to support each other.  Kim does caution that, as much as compassionate listening and support can help, often women suffering from post-abortion stress syndrome need trained help, both theological and psychological.
While I may not agree with everything Kim says, I do believe that Cradle My Heart is a very valuable resource for post-abortive women who wonder if God could ever forgive them.  Kim shares the gospel with compassion, love, and practical guidance.  May the Lord bless Christian ministry to post-abortive women.
Reading this book I realized the significance of the Jesus' words, "He who has been forgiven little loves little."  The depth of gratitude expressed by post-abortive women could shame the rest of us.   May God give all of us a real understanding of the seriousness of our own sins so that we really and truly learn to be grateful for the gift of salvation.
This book is highly recommended for anyone who has had an abortion.  It would also be a good resource for crisis pregnancy centers, post-abortion counselling centers, pastors, and Christian psychologists.
—
More reviews and information about the book and the author are available here.
Other books I've reviewed that discuss how women deal with abortions they have had are UnPlanned by Abby Johnson, Uncle Sam's Plantation by Star Parker, and Growing Up Ziglar by Julie Ziglar Norman.
A list of pro-life resource links can be found here.
—
For more inspiration, see No Ordinary Blog Hop, Encourage One Another Wednesday, Women Living Well Wednesdays, Works For Me Wednesday , Raising Homemakers.   This is yet another book in the 2012 52 Books in 52 Weeks Challenge and is also linked to Saturday Reviews.
Disclosure: I received a free copy of Cradle My Heart from Kregel via Litfuse in order to give you my honest opinion.