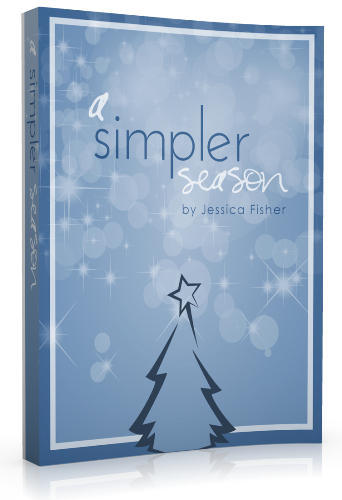 As wonderful as the upcoming festive season is, no one will deny that it can be stressful.  Guests, food, parties, gifts, and activities often compete with what we really want to be celebrating.  And that's a problem.  But it is possible to celebrate sanely, and Jessica Fisher, homeschooling mom of six, author, and blogger, helps us figure out how in her 235 page ebook A Simpler Season.
Jessica's goal is to free you up so you can enjoy the season with your family without having undone tasks nagging at you.  She writes, "Now is the time to be proactive and make the coming holiday season restful, memorable, and meaningful."
The first 80 pages of this book are about preparing for the holidays by dreaming, adding margin to your life, praying, planning your time, organizing your home, budgeting, and preparing for memorable feasts as well as daily meals.  There are planning pages, check-off lists and more, all type-able and printable.
This section is also full of Christian wisdom.  I've followed Jessica's blogs for years and, while she doesn't put her lamp under a bushel, she does focus on the practical aspects of being a mom because, after all, that's what her blogs are about.  In this book, however, Jessica came alongside me, chatting and reminding me of things I know but had expected to hear only from my sisters.
The rest of the book is divided into three parts devoted to the major holidays, Thanksgiving, Christmas, and New Year's.  Jessica discusses each holiday's meaning, and then gets practical with printables, activities, ideas, recipes, book and movie lists, and more.
In Canada we celebrated Thanksgiving a long time ago, but I'll be sure to reread that chapter next fall.  It discusses giving thanks as well as making great memories for family and friends.
I breathed a sigh of relief when I saw the Christmas check-off list.  It includes all the things I've thought of and some that I'd forgotten, such as making sure that the kids have appropriate footwear for celebrations.  Mr.  17 desperately needs new dress shoes, and now it's finally on my list.  While focussing on the real meaning of Christmas, our Savior Jesus, Jessica doesn't tire of pointing out that a celebration should be fun and memorable.  She includes all sorts of enjoyable activities, and great and sensible gift ideas, and lots of good food suggestions.  One of the best ideas of all, especially for homeschooling moms, is a list of picture books, each with fun, holiday-themed activities.
As for New Year's, it's a time of new beginnings and of remembering the past.  Be intentional about planning for the New Year.  Make your memories permanent with photos, videos, and more.  I've never made a video, but will this year if I can.  Jessica says it's easy.  And, of course, there's the food to think about, delicious but easy-to-make treats for kids and adults.
This excerpt felt like a warm hug to me as I look back at the past:
I can easily get discouraged over the ways that I've failed in the past year as a wife, mother, teacher, friend. I have let things slip in many ways.  And the passing of time can make me anxious over my mistakes. I know that doesn't really help me change.
A fresh start does. Cleaning out cupboards and drawers, trading old stuff for new gifts, snuggling with my peeps, and setting goals for the future are ways to take my mind off the many ways I've blown it over the last 12 months.
You can see, Jessica's been there, and she still is, just like we are.  The difference is that she's organized enough to have recorded what works and what doesn't when it comes to the three big holidays.  While I'm going to be using the sheets she provided to ponder what did and didn't work for us this year, I'm thankful to have access to her wisdom as well.
—
You can buy A Simpler Season here.
I've previously reviewed Jessica's Summer Survival Guide, which could make a helpful Christmas gift for a mom you know.
This post is linked to the 52 Books in 52 Weeks Challenge, Saturday Reviews, Better Mom Monday, Encourage One Another Wednesday, Women Living Well Wednesdays, Works For Me Wednesday , Wisdom Wednesdays, Raising Homemakers, and Frugal Friday.
Disclosure: A Simpler Season has been provided by Jessica Fisher for the purpose of this review; the review represents my own honest opinions.