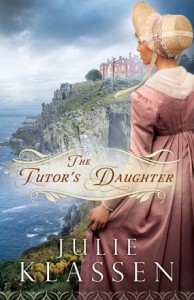 Discouraged by her widowed father's endless depression, Julie Smallwood watched his livelihood, a small boarding school, fall into ruin.  She was relieved when he was invited to become a tutor on the coast of Cornwall and eagerly accepted the post, anxious to leave behind memories of the past.  But that meant that Julie, her father's assistant, had to move right into the Weston manor, and she was not comfortable with that.  She clearly remembered the two older Weston brothers, former students at her father's boarding school, and while she still harbored tender feelings for kind Phillip, she feared taunting Henry.
Of course, as Mr. Smallwood and Julie began to teach the family's younger boys, the two older brothers, men now, soon appeared on the scene.  But that was not all.  Mysterious sounds, obvious secrets, the theft of Julie's journal, and Lady Weston's unpredictable ward, all filled Emma with confusion.  Was it just another case of her father's students playing practical jokes on her, or was something else going on?  She remembered the rule:  never show fear before wild dogs or teasing boys.   But at a certain point she was right to be afraid….
I started this book one evening and the suspense built so quickly that I couldn't fall asleep without peeking ahead to see what would happen.  So I checked, and the ending was as I had hoped it would be.  Sigh!
The stormy coasts of Cornwall, the baronet's mansion, and the trials of a kind, beautiful, intelligent, and determined young woman make a thrilling fire-side read.
This is yet another book in the in the 2012 52 Books in 52 Weeks Challenge, and is also linked to Saturday Reviews.
Disclosure: This book has been provided courtesy of Baker Publishing Group and Graf-Martin Communications, Inc. and is available at your favorite bookseller from Bethany House, a division of Baker Publishing Group.