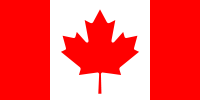 Happy Birthday to our countries!  This week both Canada and the US are celebrating with fireworks, festivals, special food, and red, white (and blue in the US) clothing.  Right now Miss 10 is decorating a chocolate cake with white buttercream icing.  She's planning to make a maple leaf in the center using cherry pie filling.
For Christians, this is a time to give thanks for our countries and to resolve to be a salt and a light, using the talents and opportunities God has given us to bless our world.  Whatever the faults of our countries, and they are many, we are blessed to live in peace and freedom.
Let us use our freedom wisely to educate our children, promote God's truth in public and private, and build strong families and churches.  Not frantically, as though it all depends on us, but in peace and humility, asking God to bless our work.  That is how we homeschooling moms can best bless our countries.
There's a lot to learn from the last verse of Canada's national anthem:
Ruler supreme, who hearest humble prayer,
Hold our dominion in thy loving care;
Help us to find, O God, in thee
A lasting, rich reward,
As waiting for the Better Day,
We ever stand on guard.
God keep our land glorious and free!
O Canada, we stand on guard for thee.
O Canada, we stand on guard for thee.
May you all have a happy day celebrating your country's birthday!