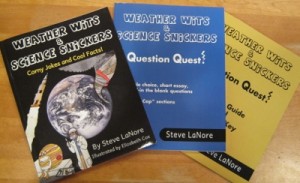 What's the difference between a dust devil and a tornado?  Why don't vacuum cleaners work on the moon? What do raindrops look like?
With Steve LaNore you can learn these and other science tidbits while laughing through Weather Wits and Science Snickers. This 57 page softcover book is full of Corny Jokes and Cool Facts about "Things in the Sky," "Things on the Ground," "Dust and Danger," and "Sun and Space."  …
You can read the rest of  my review over at The Curriculum Choice.
—
This is the kind of book I would recommend for your child's science and math reading.