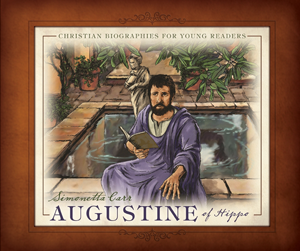 Most Christians have heard of Augustine, but who was he really?  In Augustine of Hippo, Simonetta Carr tells his story for children, outlining the life of this great man simply but with much detail and many illustrations.
Beginning with his childhood, Simonetta tells us the story of Augustine and the times in which he lived.  We follow him from his wild youth, his busy schooling, and his conversion, to his selection as a preacher, his escape from ambush, and his death during the siege of his city Hippo.  We learn about the real-life situations that lead to his great books and about the doctrinal stands that made him famous.
However, Augustine of Hippo leaves us with the picture of a brilliant man of action, not an anemic intellectual.  Simonetta has done children everywhere the service of showing Augustine as he actually was, not as a vague, shadowy mind who wrote those great books that older siblings study and adults discuss.
Simonetta has a gift for choosing the most relevant information and presenting it in a well-told story.   Although much research went into this book, there is nothing academic or dry about it.  Instead, all the background details are an important part of Augustine's story.   His love of Biblical truth is also presented simply and as part of the narrative.  This book is full of fascinating details that appeal to teens and adults as well as to 7-12 year olds.
When we read it together, Miss 11 did not want me to stop until the entire 62-page book was finished.  It helped, I suppose, that she'd heard her older brother and sister talk about Augustine as they study him for Omnibus.
A week later when I asked her what her favorite part of the book was, and she could not choose.  "I liked it all," she told me earnestly, paging through it again.  Miss 13 and Miss 15, both beyond the target age range of this book, also agree that it is worthwhile.
What I really like about Augustine of Hippo:
Well-chosen photos.  Other books about Augustine tend to miss visual aspects, like the green fields around Augustine's childhood home (I vaguely thought he was surrounded by desert sand), the Roman Forum where he most likely spoke, and the ruins of the church he used to preach in.
Emotion-filled illustrations.  The intensity when Augustine is teasing his newly-Christian friend is electrifying, and the scene when he tricks his faithful mother Monica wrenches my heart.
A "Did you know?" section at the end of the book.  Here Simonetta includes interesting tidbits about Augustine's clothes, how Psalm-singing ended a siege, beards, books, villas, gossip, and why the Vandals came to Hippo–information that did not fit into the story itself but that is worth sharing.
Augustine of Hippo is obviously the product of much research, a deep love for the subject, and an understanding of how children learn.  It is a beautiful introduction to one of the most influential men of Western civilization, one of the most important leaders of the church, and one of the cloud of witnesses that surrounds us.
I highly recommend it for all children as well as for teens and adults who want a simple introduction to Augustine's life and beliefs.  It would be a helpful homeschooling book and is also special enough to be a Christmas gift.
Note: More information about  Augustine of Hippo is available on the Christian Biographies for Young Readers website. 
Disclosure: I received this book from Simonetta Carr for the purpose of this review.  As usual, I am not compensated for my review.
This review is linked to Trivium Tuesdays and Read Aloud Thursday.