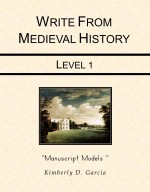 After Miss 11 works on her NaNoWriMo novel or does her math, she is exhausted.  Then she often turns to Write from Medieval History.  With its lovely stories and clean, uncluttered pages it is both interesting and soothing.
Although Write from Medieval History: Level I by Kimberly Garcia is aimed at grades 1-3 for its extra features, the history stories and poetry are timeless and for all ages.
Because Miss 11 is, obviously, past the intended age range of this series, we use this book mainly for handwriting and copywork.  Every day, Miss 11 copies the manuscript models accompanying one of the stories into her notebook using cursive.  Because she learned the Canadian Handwriting System , I rather like using manuscript copywork models rather than confusing her with cursive models in a different style.  Although the author suggests using one history selection and one story or poetry selection each week, for simplicity's sake and because of her age, Miss 11 is just going through the book sequentially, doing four selections each week.
If I still had young children, this book could fill a large part of our homeschool day as it could be used to teach printing, practice narration, do copywork, study and take dictations, and learn about grammar.  Besides all that, it also helps a child practice reading (or listening, for those who cannot yet read), learn history, enjoy fairy tales, and read poetry.  Rather than a textbook approach to this wide array of learning, Write from Medieval History:  Level 1 uses Charlotte Mason's gentle but thorough approach which is carefully explained.  A new homeschooling mom will be able to use this book confidently if she follows Kimberly Garcia's suggestions.
So, what's in this book?
The historical narratives (dates and source listed with each story and in the table of contents) include early British tales of King Alfred, King Canute, Robert I, and King John; accounts of caliphs and Genghis Kahn; and stories about great men like William Tell, Giotto, and Sir Walter Raleigh.
English tales include "Little Red Riding Hood", "Three Men of Gotham", and "The Shoemaker and the Elves".
The poetry section (dates and sources listed with each poem) includes lively selections from Shakespeare as well as nursery rhymes and a hymn.
Cultural tales are stories from different lands, such as "The Three Billy Goats Gruff" from Norway, "The Frog's Travels" from Japan, and "How Indian Corn Came into the World" which is an Ojibway legend.
When I wrote a preview of Write from History in September, my friend Amy wanted to see some sample pages, so I've photographed the pages about "King Canute on the Seashore".    As you can see, each story includes a page for written narrations (written either by the child or the parent) and two copywork passages that can also be used for dictation with lines that are suitable for young children.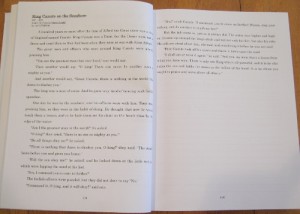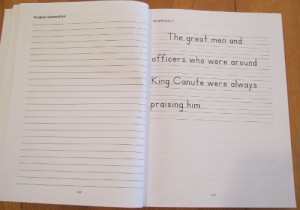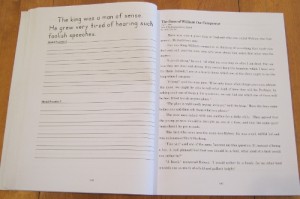 There is no separate teacher's guide, and it is not necessary.  The book's introduction explains narration, copywork, and dictation and also provides a possible schedule.  Appendices include a very helpful but simple guide to teaching grammar with this book as well as some sample narration questions.  If you plan to use this book for dictation, the appendices also include a separate list of the dictation samples for the parent.
My only problem with Write from Medieval History: Level I is its unusual pagination method:  the pages are numbered by the section they are in rather than sequentially.  This can be frustrating at times, but once I became familiar with the book, it was not too hard to deal with.
For a thorough description of the Write from History series and all its features, see Kimberly Garcia's explanation.
Disclosure:  I received this book from Kimberly Garcia for the purposes of an honest review.  No compensation is involved.