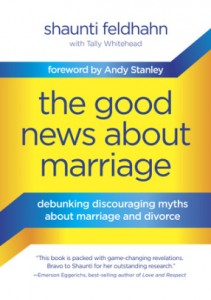 We all know those 'facts' about marriage:  half of all marriages fail, most marriages are unhappy, it takes years of painful work to fix a bad marriage, remarriages are unlikely to succeed, and Christians' divorce rates are the same as unbelievers'.
What if these ideas were not true?  What if they were based on misunderstanding or incorrectly analysing the data?  What if there were good news about marriage instead of bad news?
When Shaunti Feldhahn tried to find the source of the 50% divorce rate for a column she was writing, her quick search unexpectedly turned into a longer one that ended with experts telling her that they did not know the real divorce rate!  She was shocked, and this experience sparked a thorough eight-year study of the available marriage and divorce data.
The Good News About Marriage: Debunking Discouraging Myths about Marriage and Divorce is full of explanations of the study Shaunti and Tally Whitehead conducted.  It discusses in detail how the statistics were re-analysed and which experts were consulted, and it explains the five good news facts they came up with:
The actual divorce rate has never gotten close to 50%.
Most marriages are happy.
The rate of divorce among those who regularly attend worship services is significantly less than the rate among those who do not.
Most remarriages survive just fine.
Most marriage problems are not caused by big-ticket items, and simple changes can make a big difference.
Note:  to understand what is meant by these statements and where they come from, you will want to read the book.    It contains detailed tables, explanations of where the often-quoted numbers come from and why they are not reliable, explanations of how the new numbers were obtained, and responses from experts.
However, it is not only experts who respond to these results.  So do pastors, counsellors, and ordinary couples, and they respond with hope and joy.  These five statements remove the discouragement about marriage, especially Christian marriage.  There is hope.  And that hope gives struggling marriages a life line and thus helps to save them.
When I recently read and reviewed Total Truth, one point stood out:  the author was encouraging Christians everywhere to do their work from a Christian point of view, seeking Truth in their fields.  She suggested that such efforts could change our culture.
I think this is what Shaunti Feldhahn is doing with her determination to truly understand the statistics about marriage.  Her work could transform North America's view of marriage, giving hope both to those who are married and to those avoiding marriage out of cynicism and fear.  It also reassures Christians that obeying God does make a difference, something that misinterpretation of the statistics–and even George Barna himself said his study had been misused—had called into question.
This book is highly recommended to anyone who feels discouraged by the commonly accepted statistics about marriage.  It would also be helpful to those involved in marriage counselling and would be a valuable addition to any public or church library.
—
A helpful companion to The Good News About Marriage is Shaunti's intensely practical book The Surprising Secrets of Highly Happy Marriages (this link is to my review).
This is yet another book in the in the 2014 52 Books in 52 Weeks Challenge and is also linked to Saturday Reviews, Works for Me Wednesdays, Booknificent Thursdays, and Raising Homemakers.
Disclosure: A download of this book was provided by Multnomah Books for the purpose of this review.