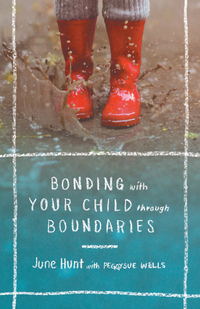 We have all seen the scenario, and some of us have lived it: out-of-control, unhappy children and frustrated, angry parents who spend their days driving each other to despair. However, in many other cases family life is harmonious. What causes the difference? According to authors Hunt and Wells, the key is in setting and enforcing boundaries. Boundaries show children love, give them security, and communicate that they have value. Boundaries can help parents and children bond by replacing uncertainty and anger with calmness and consistency. They can also dramatically reduce parental stress.
Hunt and Wells begin this book by explaining what boundaries are and why they are important, stressing that external boundaries are designed to develop internal character, because doing right eventually feels right. Parents should learn to understand the natural bent of their children and mold their wills without breaking their spirits. With a balance of loving affirmation and loving discipline they can help children understand their good points, their errors, and possible solutions to common misbehaviors. Along the way, the authors present six scary characteristics of undisciplined children, remind us to listen to our children with our hearts, and point out that all kids need the 5 T's (similar to the 5 Love Languages): time, talk, touch, tokens, tasks.
The second part of this book focuses on three dozen common behavioral issues, discussing examples and boundary issues, how to communicate expectations in a positive way, and what the Bible says.
More than once I was disappointed in this section. We and our kids can improve our behavior by sheer will power. Really? Are we better than the apostle Paul who lamented that, whenever he tried to do right, sin was close at hand? I doubt that Hunt and Wells actually believe that boundaries are as much a solution to our difficulties as Christ is, but the idea does peek through on more than one occasion. Bible quotes are occasionally applied out of context. With respect to behaviors such as disrespect and profanity, the Ten Commandments are not even referred to even though they obviously give clear advice about the behavior.
Despite these issues, any family that lovingly applies consistent boundaries such as the ones suggested by Hunt and Wells will see the benefits in their children. Even though we and our children are sinners and there is no perfection on this side of heaven, using the advice in this book is very powerful. Through over two decades of raising children in this age bracket (up to 12 years), my husband and I have found that when we had calm, loving, consistent boundaries our children would do much better that when we did not.
Setting boundaries requires time, prayer, intellectual and emotional energy, and agreement between husband and wife. If your family is not used to having fixed boundaries, I recommend you do not make too many changes all at once. Choose to enforce just a few of the most important boundaries at first so that you and your children can develop the habits involved. Too many sweeping changes all at once rarely stick.
Above all, turn to God for help and wisdom; he gave you these children to raise for him, and he will certainly help you as you diligently serve him. As Hunt and Wells write: Pray that the boundaries you establish for your children will be fair, effective, and firm—based on God's truth—and that your own beliefs and behaviors do not violate a boundary set by God. Pray that your convictions and communication with your kids reflect the character of Christ.  
If you face daily mayhem or see the need for a closer bond with one or more of your children, Bonding with Your Child Through Boundaries will most likely be a worthwhile investment for your family.  Even if you just need a reminder, as I did, this book may make your children happier and your family life more pleasant. Recommended.
Resource List:  On the importance of developing habits and on child raising. (All links are to my reviews):
Shepherding a Child's Heart by Tedd Tripp.
Charlotte Mason's writings on habits (i.e. laying down the rails), as well as the educational writings of her followers.
My reviews and articles about various aspects of child raising.
The Power of Habit by Charles Duhigg.
21 Days to a More Disciplined Life by Crystal Paine.
Better than Before by Gretchen Rubin .
—
Note:  If you wish to respond to this post, please comment here.  (Currently my blog comment form is not working.)
—
This is yet another book in the in the 2015 52 Books in 52 Weeks Challenge and is also linked to Saturday Reviews, Booknificent Thursdays, Literacy Musings Monday, and The Book Nook.
For more encouragement, visit Raising Homemakers, Titus 2 Tuesday, R&R Wednesdays, Finishing Strong, and Trivium Tuesdays.
Disclosure: I received copy of this book from Side Door Communications for the purpose of this review.  All my opinions are my own, and I am not compensated for sharing them.