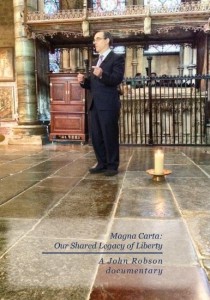 King John signed the Magna Carta 800 years ago. Many people, like my young teens, wonder,
Who cares? Why would it matter to us?
John Robson's documentary, Magna Carta: Our Shared Legacy of Liberty answers this question with a whirlwind tour through history and a stirring call to action. From King Alfred's neglected cakes and Henry VIII to the Jamestown settlement and the 'comic opera' Upper Canada rebellion, freedom and the rule of law were recognized, threatened, established, fought for, and granted. In this process the Magna Carta played an enormous role. It recognized that the king could not make law but could discover law, and that he himself was under the law. This is what made King John chew the rushes on his floor in royal fits of temper….
You can continue this review at The Curriculum Choice. 
—
This review is linked to Finishing Strong , Trivium Tuesdays.  
Disclosure: As usual, I am not compensated for this review.