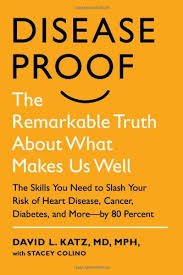 In Disease Proof, Katz argues that most people do not accomplish their goals because they do not have the skills to do so.  It isn't that they are lazy or unmotivated or bad; it simply is that they have never learned the basic steps to choosing goals, losing weight, exercising, and so forth.  This book, based on decades of disease prevention work, is his answer to that problem.
Yes, Disease Proof is a book about health, and as such it covers some of the main New Year's resolutions people have, but it is also a practical study of choices, motivations, identifying obstacles, learning to overcome obstacles, and increasing one's ability to accomplish one's goals.  Complete with tables to learn how to make decisions and to understand one's motivation, this book focuses on personalizing the choices one makes.  Katz also talks about specifics, like food and exercise, without sensational hype, fully convinced that's what's best for us does not change from week to week.
Rather than deciding, for example, to lose weight and to leave it at that, with Disease Proof one identifies reasons, clarifies obstacles, prioritizes which obstacles to overcome first, and learns skills to overcome the obstacles one at a time.  Skillpower, according to Katz, is much more important than willpower, so he focuses on teaching the skills people need to accomplish their goals.  This is a novel approach in the area of popular health books, perhaps, but it is also a common sense one that mirrors research in other fields.
If you remade goals this year that you did not manage to stick with in previous years, it could be that you did not have the skills to own your goals or to overcome the obstacles.  Disease Proof may just have the answer.  Highly recommended, especially for those with health goals involving eating or exercising, but also for those who are interested in the process of setting and accomplishing goals.
I am still thinking about my goals for 2017—all of them, not just health-related goals—and with the methodical approach to obstacles that this book teaches, I suspect that I will be able to meet most of them, Lord willing.
If you enjoyed this review, you might want to follow me on Google+ where I often mention books and other helpful or interesting ideas, or connect with me on GoodReads where I share what I read. 
Disclosure:  I borrowed this book from the library and am not compensated for this review.
For more about books, see 52 Books in 52 Weeks, Semicolon, The Book Nook, Booknificent, and Literary Musings.  For more reading to support goals, see The New Year's Resolution Challenge.