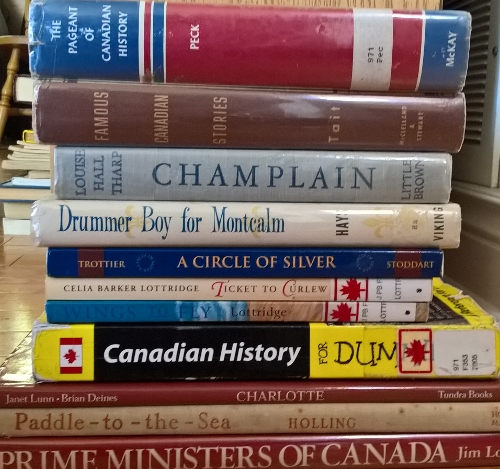 The best way to learn about the past is to live in it, and we can do that with well-written books.  For Canadian history we have always focused on reading novels, stories, and even poems and have used textbooks mainly as outlines and guides.  This literature-based approach to Canadian history leads to great learning and remembering.
This year we are focusing on Canadian history in our homeschool.  Recently I wrote a broad overview of what we are doing to celebrate Canada's 150th year, but now I also want to share some of our favorite authors and books as well as some excellent reading lists we use.
So, here are some of authors we have enjoyed.  I have included minimum ages in brackets where appropriate.  These age levels are not for inappropriate content but for ages at which the material would be interesting or relevant to the average student.   (All book links are to my reviews.)
R. M. Ballantyne (12+) Hudson's Bay: or, Life in the Wilds of North America. Fascinating but occasionally a bit gruesome; a good inside look at the British class system and at wilderness living.
Pierre Berton.  Many slim children's history books as well as many adult ones.
Lyn Cook (8+). The Secret of Willow Castle, Pegeen and the Pilgrim (about the start of the Stratford Shakespeare Festival), Bells on Finland Street.
Marion Greene (10+). Canal Boy and its sequel, which is likely Down River Lies the World although I cannot remember for certain and have not been able to verify that.  A hard-to-find but worthwhile story about the construction of the Rideau Canal.
Barbara Greenwood (8+).  A Pioneer Story, A Pioneer Christmas, A Pioneer Thanksgiving, The Last Safe House, Factory Girl, Gold Rush Fever, Pioneer Crafts, The Kids Book of Canada, A Question of Loyalty.
Stephen Leacock (15+). Sunshine Sketches of a Little Town.
Celia Barker Lottridge (8+). Ticket to Curlew and Wings to Fly.
Janet Lunn (various ages; psychic elements in some of her other books). The Story of Canada, Laura Secord, Charlotte (incredibly sad Loyalist story), Maud's House of Dreams.
L.M. Montgomery (8+). Anne of Green Gables, obviously, and many of her other books.  Having studied this author in-depth by keeping up with all of her newly discovered work until about 15 years ago, I see dark elements in her work that a casual reader might miss, but most readers will delight in many of her popular books.
Farley Mowat (8+). Owls in the Family, The Dog Who Wouldn't Be, The Boat Who Wouldn't Float.  These books are a lot of fun, but they do have some inappropriate moments and language.  Please preview or read aloud with editing, as suggested in the comments here.
Janette Oke (12+).  Canadian West series (RCMP in the North), Return to Canadian West series, Songs of Acadia series.
Catherine Parr Traill (15+). The Backwoods of Canada, Canadian Wildflowers.
Eric Walters (10+ but note that some of his books raise difficult questions that need to be discussed).  Many good Canadian history books including the Camp X series, Fly Boy, Safe as  Houses, Bully Boys.
So, these are a few of our family's favorite Canadian history living books and authors.  There are, of course, many more, some of which are listed in the links below. Do you have any favorites?
Other Canadian history and literature book lists
The best list is from the Simply Charlotte Mason forum.  I have actually printed this one out.
For years the go-to list of Canadian historical fiction for homeschoolers has been Nicola's list, and Canadian homeschoolers owe her a huge debt of gratitude.  I know nothing else about this wonderful woman and her original list is no longer available online, but The Canadian Homeschooler has updated it.
I have not seen the Chronicles of Canada series but am looking forward to reading it.
A short but excellent list of Canadian historical fiction from my favorite homeschool suppliers, and their list of Canadian history study books, some of which are also living books.
Ambleside Online also has a helpful list of books and resources for Canadian history.
Picture books used in the popular Come Sit By Me elementary curriculum (like Five in a Row, but with Canadian books), Volume 1 and Volume 2.
Some of the books we have used in our family's multi-year literature-based Canadian history course.
—
If you enjoyed this article, you might want to follow me on Google+ where I often mention helpful or interesting ideas, or connect with me on GoodReads where I share what I read. 
Disclosure:  I am not compensated for recommending any of these books and resources to you.