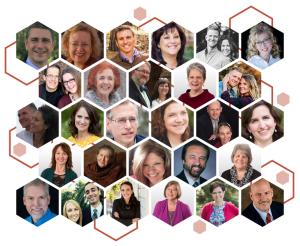 If it is at all possible, do attend your local homeschool conference.  Last week I listed 8+1 benefits and 8 tips for attending your homeschool conference.  It is a golden opportunity to learn, be encouraged, and check out resources.
Sadly, however, sometimes going to a 'real' conference is not possible.  There can be any number of reasons, but at times we have no choice but to admit that, this year, God has something else for us to do at that time.
I missed our local conference last weekend as well.  That meant I had energy to attend both church services on Sunday, which is probably a good exchange, but, really, it also means that I. Missed. The. Conference.
What to do?  Well, a friend mentioned a free online conference, the Homeschool Fitting-It-All-In Online Summit from April 30 to May 5, and it looks good.  (Note that, as always, I do not use affiliate links.)
This is how the Homeschool Summit is described on the website:
Decide what matters to your family using Christ-centered values
Create a workable homeschool plan
Keep your path centered on the eternal – even when life happens
I checked out the speaker list and saw some familiar faces I would love to listen to as well as many new ones, so I've signed up. Between April 30 and May 5 I will be spending a few hours listening to Nancy Campbell ("Being a Woman of the Word"), Sonya Shafer ("Laying Down the Rails"), the Zwaynes ("The Ultimate Goal of Education"), and maybe others.
Of course, it would be possible to spend the entire summit week at the computer watching sessions but that is not a great idea.  It could even be counterproductive.  As always, it is better to pick out a few sessions, learn from them, and then focus on applying what you've learned than to attend every session, become overwhelmed, and lose it all in a blur of busyness and missed duties.
So if illness, busyness, 'overwhelmedness', or other obligations force you to miss your local conference, this free online conference could be a welcome opportunity to help you think about homeschool goals and plans while focusing on the eternal.   Perhaps you will want to participate even though you attend your local conference as well.  But please don't use this online conference to replace your local conference. As even the organizers say,
"We ARE pulling together a fantastic lineup of speakers and even shopping options, but it won't replace attending your local homeschool conference…. As awesome as this summit will be, we still believe that the in-person networking of a local conference is invaluable!"
Yes, we need each other's presence, support, and encouragement in real life.  God created us to connect with others, and to really do that we need to be physically present with them.  But when life gets in the way, connecting online is better than nothing.
God bless you as you consider your priorities and decide whether or not this online conference is a wise use of your time and energy.
Thanks to Kathleen for telling me about the Homeschool Summit.
—
If you enjoyed this article, you might want to follow me on Google+, where I often mention helpful or interesting ideas, friend me on Facebook where I am just a newbie, or connect with me on GoodReads where I share what I read. 
Disclosure: I am not compensated for recommending the Homeschool Summit but just want to share this free opportunity with you.
This article may be linked to Inspire Me Monday, Raising Homemakers, Friendship Friday, Make My Saturday Sweet.