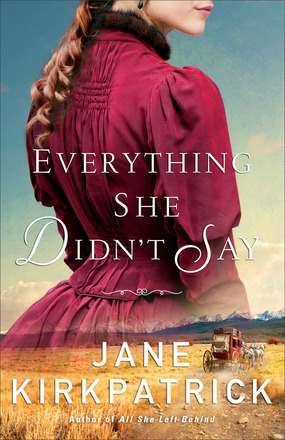 In 1877, deeply in love and more than a little apprehensive, Carrie married bestselling writer Robert Strahorn and moved to the Wild West.  The day before her wedding she wrote,
I shall make light of trouble should there be any.  That shall be my motto, to remain in the happy lane of life….
A few weeks later Carrie heard the news:  she was to live alone at a home base in the lonely West and Robert would travel for railway publicity, gathering material to write the books and pamphlets that would bring in settlers.  In horror, she suggested an alternative—she would travel along with Robert wherever he went.  The official reason, used to convince the railway, was that as a couple they would represent civilization as well as adventure.  If the West was suitable for a society woman, certainly hardy pioneer women would be inspired by that, leading to more settlers.  When the railway agreed to the unconventional suggestion, Carrie had no idea that she was committing to years of travel….
So we follow Carrie's travels, her marriage, her longing for a child, and the towns she helped settle.  Truly, she became 'Mother of the West' and 'Queen of the Pioneers'.
At first I thought Everything She Didn't Say was an ordinary novel and couldn't understand why it seemed to have so little plot (Miss 16 gave up on it entirely).  Then I realized that it was based on Fifteen Thousand Miles by Stage, the memoir of the real Carrie Strahorn!  Once I realized it was a fictionalized biography and a history of the American West and the railroads, I fell in love with this book.  It offers history, an exploration of one woman's life and relationships and, as Carrie struggles, much wisdom for living.
Author Jane Kirkpatrick read Carrie's memoir and imagined the behind-the-scenes emotions and events, infusing life into Carrie's public story.  Each chapter begins with a fictional journal entry. This is followed by a fictional account of Carrie's life, well-written, well-researched, and full of emotion.  Finally each chapter ends with a small snippet from the 1911 memoir.
Not only does Everything She Didn't Say tell us more about Carrie and the amazing (and amazingly difficult) life she lead, but it also offers a new way to read all memoirs and a thoughtful way to understand the way we remember our own lives.  As Carrie struggles with the challenges of her unique life, Kirkpatrick fills the fictional journal entries and story with so many reflections that my book has dozens of folded corners.
This is a story of the West as well as of a relationship and a life.  It is not a plot-driven novel, which is probably why Miss 16 gave up on it.  I, on the other hand, am excited to read more books by Jane Kirkpatrick, because this style of book suits me exactly:  there is story and emotion as well as reflection and history, and it's based on real life.
I highly recommend this book for anyone interested in learning about the West and the railroads as well as anyone interested in exploring life from a woman's point of view.
—
If you enjoyed this review, you might want to follow me on Google+, where I often mention helpful or interesting ideas, friend me on Facebook where I occasionally show up, or connect with me on GoodReads where I eventually share what I read. 
Disclosure: This book has been provided courtesy of Baker Publishing Group and Graf-Martin Communications, Inc. and is available at your favorite bookseller from Revell, a division of Baker Publishing Group.
This may be linked to Saturday Reviews, Booknificent Thursdays, 52 Books in 52 Weeks Challenge, Literacy Musings Monday, and The Book Nook  as well as to Inspire Me Monday, Raising Homemakers, Friendship Friday, Make My Saturday Sweet.