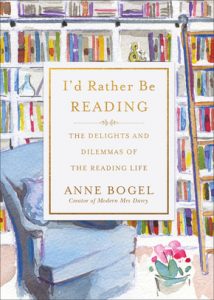 The title of this book says it all:  I'd Rather Be Reading.  But, as any reader knows, it is not always wise, right, or possible to be reading, and I was curious to see what Anne Bogel considered to be The Delights and Dilemmas of the Reading Life.  At the back of my mind there was one more reason to read this book:  Once Anne had written an article about how library deadlines can disrupt our lives as we madly try to finish a book before returning it.  Now, that was something I could identify with, and I hoped there would be more moments like that in the book.
There were.
Our teens are going through How to Read a Book (link to my summary for high school), with its emphasis on active reading, so I was delighted to read, "When we talk about reading, we often focus on the books themselves, but so much of the reading life is about the reader as an active participant."
Anne discusses bookshelves and "the kind of people who think decorating consists mostly of building enough bookshelves."
I uncomfortably recognize myself as being 'book bossy', someone who urges books on people.  Done well, this is a wonderful thing; done poorly it is mere interference.
Anne discusses reading as an escape, as learning how to live, as an obsession, and as a way to furnish the mind.
And then there's this quote, which highlights to me how important it is to read good books and to think carefully about the books we read.  "My head is so full of musings and insights and ideas from books that I'm not sure who I would be or how I would think if they were all taken away."  Books form the people we are.  So do music, movies, and friends, and this should make us reconsider all the things we read and do.  Who and what is forming us?  I'd Rather Be Reading can be seen as one woman's exploration of that question.
It is crucial for each one of us to consider how books (and other 'inputs') affect who we are and who we are becoming.  We can learn from Anne to think carefully about this, and then we should ponder where our choices are leading us and whether that is really where we want and ought to be going.
How books form us is determined not only by the books themselves, but also by the very habit of being a bookworm.  As James K. A. Smith emphasizes in You Are What You Love, we humans are more than 'brains-on-sticks'.  We have emotions and are formed by our physical habits.  Too much reading can get in the way of living; in fact too little doing can hamper us as least as much as too little thinking can.
Now, back to the title of the book.  Would I truly rather be reading?  Sometimes, yes.  But often, no, I'd rather be doing.  Often I'd rather be hiking with the kids, washing the windows, painting the walls, really fixing up the flower beds, shovelling snow, going on long shopping sprees with my girls, planning a biking tour of the Netherlands with my husband.  For health reasons I cannot do these things.  Since reading is one of the things I can do, it almost seems as though it has become a calling. I aim to read to the best of my ability and to God's glory and then, as I find meaning in what I do, yes, then I'm pleased to be reading even though often I'd rather be doing.
You probably read for different reasons than I do.  Whatever our reasons, all of us can benefit from a careful look at the things we do and how we do them, for if we are not faithful in the little things, how will we be entrusted with great things?  Anne Bogel's I'd Rather Be Reading can help with this.
—
Related Articles
Our Family's Top Twenty Read Alouds
—
If you enjoyed this review, you might want to follow me on Google+, where I often mention helpful or interesting ideas, friend me on Facebook where I occasionally show up, or connect with me on GoodReads where I eventually share what I read. 
Disclosure: This book has been provided courtesy of Baker Publishing Group and Graf-Martin Communications, Inc. and is available at your favorite bookseller from Baker Books, a division of Baker Publishing Group.
This article may be linked to Saturday Reviews, Booknificent Thursdays, 52 Books in 52 Weeks Challenge, Literacy Musings Monday, and The Book Nook  as well as to Inspire Me Monday, Raising Homemakers, Friendship Friday, Make My Saturday Sweet.