As a member of the TOS Homeschool Crew,  I was offered a free month of the math program ALEKS.  We're about halfway through the trial, and it is so wonderful that I want to let you know about it right away. 
You see, I can offer you the same free one month trial that I got, and it's a wonderful thing to try out before the school year starts.   So here is a preview of ALEKS with an opportunity to get the free trial month. My official review will come later.  (Note that the free trial offered on the website is not the 1 month long one I'm allowed to offer you.)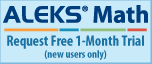 Let me tell you about ALEKS.  It is an online math tutor program with courses from grade 3 to university level.  The genius of this program is that each course is broken down into small concepts, and a student masters them one by one, filling in a coloured pie segment for each topic in the course.  There are no huge, overwhelming concepts; each one is as simple as possible, and they build on each other. 
For example, in grade 4 there are 212 bite-sized concepts distributed among the following 6 pie segments:
Number Sense, Addition, and Subtraction

Multiplication and Division

Fractions, Time, and Customary Measurement

Decimals, Money, and Metric Measurement

Geometry

Algebra, Graphs, and Probability
You can take a tour of the program and its features here.  I will give you a brief description as well: 
A new student begins with a tiny tutorial on using ALEKS, and then is given an assessment to determine what he already knows.  After the assessment, the student is presented with his pie.  Concepts he has mastered are brightly colored in each pie segment, and the goal is to get each segment to be brightly colored.  The student may choose which pie segment to work on, as well as which concept within the pie segment.  Note that Aleks only offers concepts a student is ready for.
When the student works with ALEKS, he reads the question, studies the explanation if necessary, enters the answer, and gets instant feedback on whether his answer was correct.  If it was wrong, he is given a detailed answer.  After some successful practice, he may add the concept to his pie and choose the next concept to study.
That little pie, slowly getting brighter, is a wonderful incentive for my children.  They are learning so much, in such an organized way, and with lots of review.  I can keep on top of things without investing huge amounts of time, because every week Aleks sends me a report on what the children have done. 
This online tutor is patient, can be in two places at once, and never gets tired.  The amount of teaching that ALEKS is taking over from me is phenomenal, and I'm sure we'll be enjoying the benefits all year.  Of course we will still use our regular math programs when school starts, but many of the concepts will already be familiar to the children from ALEKS, making the year easier for them as well as for me.
I highly recommend you check ALEKS out now, before life gets very busy with school.  This will give your children something new to do near the end of the summer break, it will give them a head start on next year's math, and it will allow you time to decide how you wish to incorporate Aleks into your school year.
To get the most out of ALEKS for homeschoolers  you should explore the sidebar thoroughly.  One hint, the FAQ are under 'Support.' Detailed course contents are available under 'Course Products,'  where there is also a list to help you decide which course you should choose for your child.  I found adding multiple student accounts a bit confusing, but the ALEKS FAQ section, which I looked at too late (oops!), does walk you through it.
You can sign each of your children up right away by clicking on the picture above.  I signed myself up too, just to see what it was all about, as well as to relearn things I haven't seen for over 20 years.  It's fun.  It is also a bit humiliating, but I'm already feeling empowered by what I've relearned.  Not only are the children better prepared for next year; I am too, and that is a wonderful, stress-free feeling!
Once we have finished our free month, I'll be posting a full review of ALEKS.  In the meantime, this is your chance to get it before school starts!
As a member of the TOS Homeschool Crew, I am receiving a free month of ALEKS to use and review—the same as the free month you are being offered on this blog.  I receive no compensation from either ALEKS or The Old Schoolhouse.