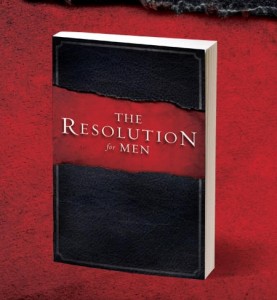 It felt really strange to read this book, because it's written for men.  However, it was part of the Courageous review series, and my husband promised to give me his input.  Obviously, this blog is not written for men but for homeschooling moms.   So, dear sister, if this sounds like something that would encourage your husband, please tell him about it, but do it gently, remembering the warning from The Resolution for Women: men hate being controlled by a woman.
The Resolution for Men, by Stephen and Alex Kendrick with Randy Alcorn, is "an unapologetic call for men to live courageously for their faith and families." In fact, the authors say that "…we are just challenging you to do what God is going to hold each of us accountable for doing anyway."
The authors challenge men to commit to twelve resolutions:
to be a man of responsibility
to lead your family
to love your wife
to bless your children
to live with honor
to fight for justice
to demonstrate love
to provide for your family
to reconcile with your past
to live with integrity
to be found faithful
to leave a legacy
They devote a chapter to each resolution, explaining it clearly and Biblically without unnecessary fluff.  Each chapter ends with a practical challenge and a memory verse, and discussion questions are listed at the back.  The whole book is full of lists such as 'ten action points for faithfulness' and 'ten things that make prayer ineffective'.   I like logically arranged books, and I'm told most men do, too.  My husband is impressed with the resolutions and how carefully they are based on the Bible.
These twelve chapters are full of wisdom and encouragement such as
Love is giving people what they need instead of
what they want, no matter how difficult it is to do.
You need to know
your wife and kids to protect them.
Be strong and courageous.
To fear the Lord means to be respectfully aware
of his greatness.
Both bitterness and guilt are removed by
forgiveness.
We're designed to honor God, not ourselves.
We, in ourselves, are bankrupt so we constantly
need to go to God for grace and wisdom.
The Resolution for Men ends with nine appendices.  They are intensely practical, discussing salvation, influences in children's lives fathers should be aware of, temptations in men's lives, praying for one's family, portions of the Bible to memorize with one's children, and accountability.  As a woman, I felt uncomfortable 'eavesdropping' on this earnest man-to-man conversation so I did not read all of the appendices.  My husband says they are good.
The introductory chapters, however, are not as good as the rest of the book.  Rather than focussing on the Bible, these chapters try to provide inspiration using stories.  At best they let go of Scripture and focus on the human story which is, of course, perfectly fine in its place.  At worst, they remake God into a figure needed to advance their agenda, which is wrong from all points of view.
Even so, we recommend this book.  If, trusting in God for his grace and Holy Spirit, Christian men committed to the twelve resolutions explained in this book, we would all be blessed and God would be glorified.
—
This is the third in a series of 4 reviews of resources from Sherwood Baptist Church: Courageous Living (book), The Resolution for Women (book), The Resolution for Men (book), and Courageous (DVD).
Disclosure: This book has been provided courtesy of David C Cook and Graf-Martin Communications, Inc. and is available at your favourite bookseller from B&H Publishing Group.
The Resolution for Men is my second book in the 2012 52 Books in 52 Weeks Challenge. For more inspiration, visit No Ordinary Blog Hop, Encourage One Another Wednesday, and Women Living Well Wednesdays.