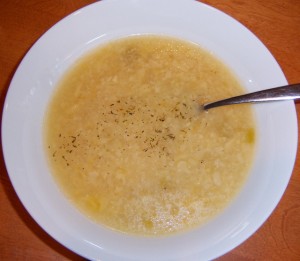 This is one of our favorite soups and is so easy to make.
Note: it is also extremely frugal.  When I can get cheap cauliflower, a recipe like this costs me under $1.50–and that's in Canada!  We only make it when I've bought several inexpensive cauliflowers and then I usually double or triple the recipe and make enough soup to last for several days.
Simple, scrumptious, frugal, and healthy.  What more could you ask?
Wash a medium cauliflower and cut into large florets.  Add water almost to cover and cook until tender.
Meanwhile, sauté a  medium chopped onion, a minced clove of garlic, and two chopped stalks of celery in about 2 T of butter or oil using a large pan.  (This is the pan you'll be cooking your soup in.)
Add 2-4 cups stock.  We usually use homemade chicken stock, but last Monday I used sausage drippings and gravy instead. Yum!  (You could also add a commercial organic soup base mixed with water.)  Exactly how much you'll need to use depends on the flavor intensity of your stock.
When the cauliflower is tender, remove from heat and mash using a potato masher.  Small chunks will remain.  (If you don't want any chunks, you can use a blender.)
Pour the mashed cauliflower and its cooking liquid into the pan with the sautéed vegetables and stock and cook for a few minutes longer.
Season with salt (the amount depends on the stock you used), pepper, and a choice of oregano, sage, or curry.  Sometimes I also add parsley or paprika, and obviously you can add whatever you like.
Optional:  After cooking the soup a bit more, we sometimes thicken it with cornstarch, using about two tablespoons per gallon of soup.  It gives the soup a more finished look, but is not necessary.
Variation:  If your family eats flour and milk, you can prepare cauliflower soup with a traditional white sauce, making a rich and scrumptious soup that is perfect for celebrations.  Use ¼ cup of butter in step 2, and blend in ¼ cup of whole wheat flour before gradually whisking in 2 cups of stock and 2 cups of milk in step 3.
—
For more tips, visit No Ordinary Blog Hop, Traditional Tuesday, Encourage One Another Wednesday, Works For Me Wednesday , Raising Homemakers, the Ultimate Recipe Swap, and Sunday Night Soup.