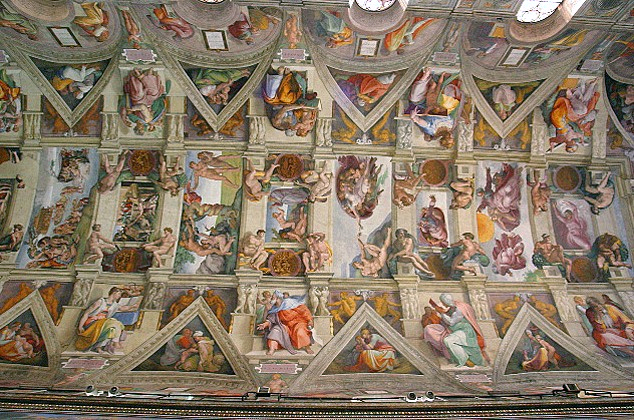 Without having seen the Sistine Chapel one can form no appreciable idea of what one man is capable of achieving.
(Johann Wolfgang Goethe in 1787 in Rome)
Between 1508 and 1512, Michelangelo accomplished one of the most stunning works of art ever created: he painted the Sistine Chapel ceiling.  This astounding artistic and religious achievement has attracted people for 500 years, but most of us have only been able to seen scattered pictures.
Now, from the comfort of your own home, you and your children can 'walk' around the chapel, craning your necks to ponder scene after scene at your leisure, with a stunning 3-D virtual tour.  You can see the famous Creation of Adam, as well as the other episodes from Genesis, the rest of the ceiling, and even the walls, mostly painted by others, while you're listening to beautiful music.
You can study each of the separate paintings following Wikipedia's article on the chapel's ceiling.  In fact, I recommend having both the virtual tour and this article open at the same time.  Of course, a print book would be even better.
Some parts of the chapel are difficult to see clearly and close up in the virtual tour.  For a static study in which each element has been photographed individually, you can visit our favorite art site, the Web Gallery of Art.  It has a section devoted exclusively to the Sistine Chapel, complete with descriptive text and suggested music.  (Each painting can be enlarged by clicking on it.)
There is a wealth of Biblical information and interpretation here.  In fact, it is said that Michelangelo read and reread the Old Testament in the years he was painting.
Michelangelo's incredible work inevitably leads to thoughts of talent, dedication, and human capability, as noted in the above statement by Goethe.  We can praise the work.  We can praise the worker.  But we must never forget to praise God who created and gifted the worker and for Whom, ultimately, the work was done.
Another important point to ponder is whether we are willing to work as diligently in our calling as Michelangelo did in his.  Are we willing to develop some of the talents we have been given?  Are we willing to help our children do so?  And, since most people have many talents, which do we focus on?
'Visiting' the Sistine Chapel has filled my mind with such thoughts, as well as with beauty and grandeur.  May you and your children enjoy the visit, too.
—
Note:  The Sistine Chapel ceiling contains a lot of nudity.
The photo of the ceiling used in this post was taken by Amandajm who put it on Wikipedia.
–Shared at No Ordinary Blog Hop, Encourage One Another Wednesday, Women Living Well Wednesdays, Works For Me Wednesday ,  Frugal Friday, and Finer Things Friday.