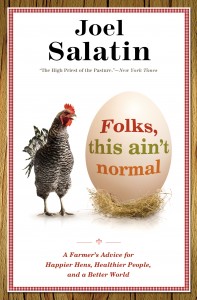 Modern North American life 'just ain't normal' according to farmer and writer Joel Salatin.  Why not?  It feels normal to most of us.
Salatin suggests that we are just too out of tune with the way things have been, could be, and should be.  We don't even know the way things should be for the good of our health, the humane treatment of farm animals, and a better world.  And even if we do know what's normal, we are convinced that a) it just won't work and b) there's nothing we can do about it anyhow.
Having chuckled and exclaimed my way through the book, subtitled A Farmer's Advice for Happier Hens, Healthier People, and a Better World, I think Salatin has some valid and very important points.
Going back to the way animals and land were treated in the past, but with a modern twist, Salatin shows how a family farm—with carefully managed pasture for herbivores and symbiotic relationships between animals—can actually be a great success.  Or it could be, if it weren't for government officials who, while ignoring the many foolish and dangerous aspects of factory farming, stifle small farms in red tape.
He shows how the current food production system depends completely on the availability of energy, especially for transportation.
He shows how the methods and feeds of modern animal production have themselves created the disease and bacterial infestation that made consumers agitate for regulations.  And now these regulations make it almost impossible for small farmers to supply local grocery stores, restaurants, and institutions.
He shows how a consumer lifestyle is so drab that people feel the need for more entertainment and travel because they have nothing exciting to do at home anymore.
And, surprisingly, he shows both from history and current practice how grass-fed beef is really more environmentally friendly than grain production.  Not grain-fed, feedlot beef, mind you, but beef raised on carefully managed pastures.
He also discusses soil, politics, history, manure, and the evils of patenting life.
To make it all practical, each chapter ends with a list of things we can do for ourselves and our environment, such as:
Learn to cook and actually cook at home regularly.
Read aloud instead of going out for entertainment (yes, Salatin homeschooled).
Quit buying processed food.
Do not send kitchen wastes to the landfill.  Compost, or try a few pet chickens who will eat them for you, give you eggs, and entertain you at the same time.  (Many cities allow a few chickens.)
Quit feeding herbivores grain…and worse, turning them into cannibals.  Buy only pasture-fed beef.
Grow a garden; any size is a good start.
Stop wasting water; use rain barrels.
Visit a farm and buy directly from the farmer.
I am usually leery of anti-food-establishment books.  They are often written by idealistic urbanites with no practical understanding of life, health, or anything to do with food production, and with the mistaken notion that eating meat is bad for people, bad for the environment, and bad karma.  Joel Salatin, on the other hand, is a Christian farmer with years of experience stewarding his farm in a responsible manner.  He cares about the land, the animals, and the people, because he cares about their Creator.  He's practical yet idealistic and writes about what he actually does.  Sure, he has a few lunatic ideas, as he himself admits, but many many of his thoughts are solid and sensible.
Folks, This Ain't Normal is an eye-opening book about what normal actually is and what you can do to get back to normal.  Of course, you may not be able to raise chickens and you may not want to move to a farm.  But you can educate yourself and your family to understand food production, government intervention, and the philosophy behind a home-centered life.  You can learn to make a difference, for yourself and your world.  I highly recommend this book to all, and especially to homeschooling families.
For more information about Salatin and his farm, see the Polyface Farm website.
Disclosure: We borrowed Folks, This Ain't Normal  and I am not compensated for this review. All opinions are my own.
This is my 14th book in the in the 2012 52 Books in 52 Weeks Challenge and is linked to Saturday Reviews, Booking It, and The Homestead Barn Hop.