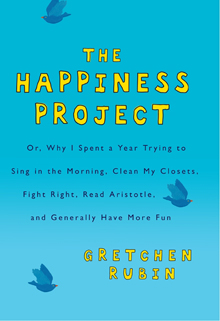 Is it right and good to focus on one's own happiness?  Or is it supremely selfish?  That's what Gretchen Rubin wondered off and on during the year she spent on The Happiness Project.   And that is what I, a Christian, wondered when I picked up the book.
For two reasons she decided that yes, such a focus is good, even for someone who is already quite happy.
Happier people are better and nicer.  It is easier to do right and be loving when you are happy.
If you prepare now for inevitable disaster by learning how to be happy, you'll be able to cope and function better when that inevitable phone call comes.
But what is happiness?  And how do you go about increasing it?  Gretchen did a huge amount of research and pondering.
Happiness is not hidden in a tub of chocolate ice cream nor does it involve a life of laziness.  Paradoxically, it can occasionally require a lot of self-discipline, hard work, and activities that are not fun.
During the year of her happiness project, Gretchen focussed on a different topic each month:  energy, marriage, work, parenthood, leisure, friendship, money, eternity, books, mindfulness, attitude, and happiness.  Each month she set herself resolutions in that month's topic, and every day she filled in her Resolution Chart, to see how she had done. By reminding her of her resolutions every day, the Resolution Chart turned out to be the cornerstone of her happiness project and all the changes she made in her life.
In the book, she tells us about the resolutions, why she chose them, what they meant to her, and how they affected her, weaving in research results where appropriate.  So what kind of resolutions did she set?  While focussing on energy, she tried to
go to sleep earlier,
exercise better,
toss, restore, and organize,
tackle a nagging task
act more energetic.
While focussing on friendship, her resolutions were
remember birthdays,
be generous,
show up,
don't gossip,
make 3 new friends.
Some of the resolutions worked for her; some did not.  But each taught her more about herself and how to be a nicer, better, more effective person.
During the year she also discovered Four Splendid Truths
To be happy I need to think about feeling good, feeling bad, and feeling right, in an atmosphere of growth.
One of the best ways to make yourself happy is to make other people happy.  One of the best ways to make other people happy is to be happy yourself.
Days are long but years are short.
You're not happy unless you think you're happy; you're happy if you think you're happy.
There's so much information, wisdom, and common sense in this book! I think everyone can learn from Gretchen, even though everyone is so very different.
I like Gretchen.  She's my kind of person:  happy at home, satisfied with simple things, a fan of children's literature, enthusiastic, devoted to family, and occasionally a bit too earnest.
But Gretchen misses a lot since she's not a Christian.  A lot of happiness.  A lot of reasons to be good.  A lot of reasons to be happy.   She also labors under the optimistic delusion that she can, indeed, fix her own life.  Now, a lot of our sadness is self-inflicted, whether by actions or attitudes, and that we can certainly fix.  But when the time comes to face the hollowness inside, there is no peace or satisfaction except in Christ.  A happiness project is just a bandage….  But don't we all need one at times?
The questions raised by Gretchen's book are so complex that I've been thinking about them much of the time.  I hope to post more about this book and the concept of happiness later.
For now:  yes, a happiness project is a bandage, and even Christians need those.  In fact, many of the elements of Gretchen's happiness project are given in the Bible as part of God's directives for our lives.  Gretchen's research and her year-long quest show, once again, that serving God as he requires does lead to happiness.  (And note that I said 'happiness', not easy circumstances.)
The Happiness Project should be available at your local library.  Enjoy!
—
This is my 21st  book in the in the 2012 52 Books in 52 Weeks Challenge, and is also linked to Saturday Reviews.   For more inspiration, see No Ordinary Blog Hop, Encourage One Another Wednesday, Women Living Well Wednesdays, Works For Me Wednesday , and Raising Homemakers.
Disclosure I borrowed this book from our library (after being on a very, very long waiting list) and am not compensated in any way for this review.