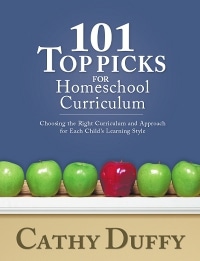 There's one book I always recommend to new homeschooling moms, 100 Top Picks for Homeschool Curriculum by Cathy Duffy. But it's getting old.
This summer, a new edition of Cathy's wonderful book has come out, called 101 Top Picks for Homeschool Curriculum. It is similar to 100 Top Picks in format and content, but some resources from the first book have been replaced by better, newer ones.
101 Top Picks begins by helping you understand and determine your family's educational goals and needs.  Cathy asks questions such as…
You can read the rest of this review over at The Curriculum Choice. 
—
For more homeschooling inspiration visit the Carnival of Homeschooling, Trivium Tuesdays, and Favorite Resource This Week.