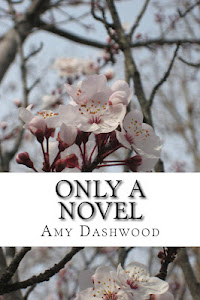 Miss 14 has a whole bevy of sweet and exuberant friends who love Jane Austen, Charles Dickens, and, especially, the Scarlet Pimpernel.  One of these girls, Amy Dashwood, just published her first novel, and of course Miss 14 bought it. 
In Only a Novel, bookish Elizabeth loses her grandmother and immediately discovers that her fortune is gone too.  Inspired by some of her favorite novels and not thinking at all clearly, she dreams of becoming a governess in far-away England… and it actually happens.   In the process she learns about books, friendship, real life, and her own silly self.
This is the first novel, self-published, of a young lady who just might become well-known.  For now, if you love Jane Austen and enjoy Dickens; if you like fun mixed with serious reflections and a bit of romance;  if you like to laugh, nod your head, and dream; then you will enjoy this high-spirited story.
The plot is as believable as any in this genre, the main characters are sweet, silly, and lovable like most young girls, and the writing itself is comparable to that of many of the novels I have reviewed.  The story did contain a few too many quotes, but as that's part of Elizabeth's bookish character, it can't be helped.
Only a Novel is a great light read.  Miss 12 chortled over it, Miss 14 laughed and sighed over it, and I enjoyed hugely.  It is wholesome, uplifting, and funny without being the slightest bit preachy.
I think that some of the best new fiction will come from authors who share Jane Austen's Christian worldview, her sense of humor, and her love of her character… new authors like Amy Dashwood.
Only a Novel is available in both paperback and Kindle versions.
This is yet another book in the in the 2012 52 Books in 52 Weeks Challenge, and is also linked to Saturday Reviews.
Disclosure:  I borrowed this book from Miss 14 and am pleased to give you my honest and positive opinions.