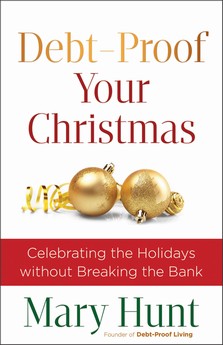 After one horrible Christmas when she maxed out every one of her vast assortment of credit cards, Mary Hunt learned an important lesson:  "Stuff quickly fades, but debt goes on and on."  Statistics show she's not the only one who's faced a major letdown in January when the Christmas credit card bills arrived.
And that's why she's written Debt-Proof Your Christmas:  Celebrating the Holidays without Breaking the Bank.  In this very practical book, Mary shows how to get rid of the three grinches
consumerism
overindulgence
overdoing.
While your celebration of a debt-free Christmas depends mainly on your attitude, it's also crucial to plan, find the cash, and give yourself plenty of time.  There are many ways to give gifts, but to avoid over-spending you'll need to find bargains or make, assemble, or grow your own gifts.  Mary also discusses gift wrap, decorating the house, traditions, entertaining, and family fun.
Our family tries to avoid excess during the Christmas season, because to us Christmas is primarily about the birth of our dear Savior and Lord, Jesus Christ.  Even so, we love to give gifts.  I was thrilled to learn about all the different on-line buying opportunities, gifts from the kitchen and garden, and creative family gifts.   
By reminding us to thoughtfully plan our celebration of Christmas, Mary helps us avoid exhaustion and stress as well as debt. 
If the thought of the Christmas season throws you into a tizzy or if you routinely spend too much, Debt-Proof Your Christmas will be a blessing to you.
—
This is yet another book in the in the 2012 52 Books in 52 Weeks Challenge, and is also linked to Saturday Reviews, Better Mom Monday, Encourage One Another Wednesday, Women Living Well Wednesdays, Works For Me Wednesday , Wisdom Wednesdays, Raising Homemakers, and Frugal Friday.
Disclosure: This book has been provided courtesy of Baker Publishing Group and Graf-Martin Communications, Inc. and is available at your favorite bookseller from Revell, a division of Baker Publishing Group.