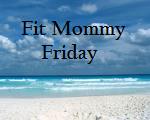 Yes, it is time to lay this Fit Mommy series to rest.  For almost 3 ½ years, it has helped many moms, including myself, to improve their fitness level.
However, there seems to be little need for a Fit Mommy accountability group anymore.  We have all adopted healthy habits that have become an integral part of our lives.  
Jenn has lost almost 50 pounds by making wise food choices and being active.  She and her family now enjoy disc golf and biking.  Even their frequent camping trips now focus on being active and include healthier foods.
JoAnn, too, has built many healthy habits into her busy life over the past few years:  drinking adequate water, eating vegetables, avoiding exhaustion, and exercising moderately.  Now she's even trying out a whole new way of eating by going gluten-free.
Brianna, who has just had her ninth baby, is an inspiration in so many ways.  She kept fit through this pregnancy with careful food choices and diligent, sensible exercise—an extension of what she did before this pregnancy.  No wonder she looks gorgeous.
Stacy, who has now quit blogging, has transformed herself from a couch potato mom to an energetic Fit Mommy who thrives on exercise and makes it an important part of her life.
Each of these women, and others who were more involved in this group's earlier days, have inspired Fit Mommy readers.  As for me, they have changed my life while changing their own.
Fit Mommies encouraged me to make the difficult daily decisions that transformed me from an ill woman to a moderately healthy one.  I am now able to routinely walk 10,000 steps a day, hang multiple loads of laundry, garden, and lug some of the groceries.  That's quite a change from 3 ½ years ago when my goals were to lift up my arms a few times a day and do some minimal stretches 3-4 times a week.  This would not have happened without your encouragement and inspiration, my friends.  Thank you very, very much.
Of course we all still need encouragement—everyone does— but we no longer need the weekly accountability of Fit Mommy Friday.  As my husband says, "It has served its purpose.  It's time to move on."
So, dear Fit Mommies, may God bless us all as we continue to
care well for the bodies God has given us
by being active, eating wisely, and relaxing adequately.
—
Fit Mommy Friday is/was the Health and Fitness Check-In column of The Christian Home Carnival.