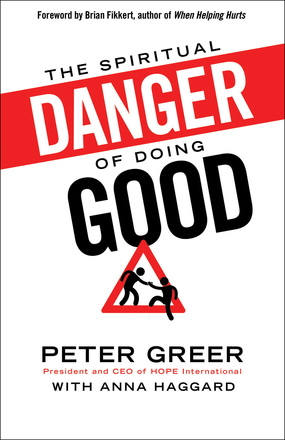 Doing good is good, right?  Then why is it that only one in three biblical leaders finished well, without abusing power or harming themselves or others?  And the numbers are worse today.
Leader of a Christian microfinance company, Peter Greer wrote this book to help those who serve, especially leaders, see the dangers that come with serving others.  He wants to finish well and to help others do so, too.
We homeschooling moms are busy at home, though, and immune to such temptations, right?   But think, what do mothers with children at home do?  All day long, they serve.  Therefore they, too, face these spiritual dangers.  Actually, anyone who lives for the Lord and tries to do good is addressed in this uncomfortable book.
I will let Peter Greer and Anna Haggard speak for themselves:
Without a clear understanding of why we serve, we risk a backlash of relational ruin, spiritual disillusionment, and personal burnout.… To unearth the answer … may help us rediscover the true heart of service.  This book is for anyone loving, giving, and serving.… But for all of us who serve, we must diagnose and then disarm the spiritual dangers of doing good. P 17
Discussing the Parable of the Prodigal Son, they point out:
…both brothers wanted the same thing:  the father's money and possessions.  The younger chose to express this through outright defiance, the older through obedience.  He believed he gained leverage over his father by doing good.  He felt his father owed him.…  The point of the story is that it's possible to sacrificially serve God and be completely self-centered in the process. P 32,33
Greer and Haggard discuss the spiritual danger of thinking your ministry is important enough
to give only the left-overs to loved ones,
to focus on doing instead of being, and
to justify minor moral lapses.
They discuss the danger
of not understanding true success,
of elevating the sacred over the secular,
of thinking you're a hero,
of forgetting your true identity,
of feeling God owes you for your good works,
of focussing on other people's sins,
of being obsessed with what other people think,
of disconnecting knowledge from action, and
of pretending to have it all together.
During Jesus' time there were some people who did the dangerous things listed above.  They were the 'good' people of the day, leaders who made it their life's business to serve God and to teach others how to do so as well.  They were the Pharisees, and Jesus devoted a lot of his precious time to confronting them, showing them the truth about themselves and their need for a Saviour.  However, because they had succumbed to the dangers of doing good, they could not accept the fact that they needed to be saved.
We, too, are often like that.
With hearts that are desperately corrupt, we usually do not see our need to be saved.  We think we can serve on our own, but without God we can do nothing.  We certainly cannot earn his love, because even our deeds of service are contaminated with sin.
Greer and Haggard conclude with
Let's not tire of doing good.  But let's remember why we serve.  It's not to gain leverage over God.  It's not for the purpose of making a name for ourselves or creating a successful organization.…. Ultimately it's simply a response to the most radical generosity the world has ever known. P 176
Despite the heavy subject matter, this book is easy to read and even, at times, funny.  It's comforting and reassuring, full of explanations from the Bible and real life examples.  And it points us to God.
I highly recommend The Spiritual Danger of Doing Good.  It points out our sins and weaknesses and thus shows us how desperately we need our Saviour.  It also helps us serve others wisely and well.
To read blog posts based on this book, visit  Peter Greer's website.
This is yet another book in the in the 2013 52 Books in 52 Weeks Challenge, and is also linked to Saturday Reviews.
Disclosure: This book has been provided courtesy of Baker Publishing Group and Graf-Martin Communications, Inc. and is available at your favorite bookseller from Bethany House, a division of Baker Publishing Group.