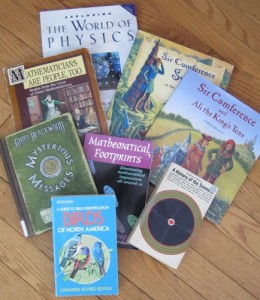 Years ago we started the practice of reading books about science and math as an 'official' part of our homeschool (i.e. something I make sure happens).  We read not only our carefully chosen textbooks, but also biographies, picture books, explanations of concepts, and deep discussions.  Why?  Because, while science and math textbooks are indispensable, especially for older students, they cannot adequately convey the wonder, the inspiration, and the meaning of the world around us.
Even the most carefully chosen science texts cannot communicate the wonder of Creation—although Apologia's texts try to and succeed rather well.  Even the most historically written math programs cannot share the joy of discovery and the amazing relation between math and creation—although the Key to … math series attempts to.  And that's why we add one more thing to our children's school lists:  math and science reading.  Yes, it is extra work for them, but it pays back in making the formal subjects both more interesting and more understandable.  It also opens new worlds to them.
So, what do we read?  For many years we followed the booklist and study schedule of Ambleside Online.   (Click on Ambleside Online Curriculum, and then look at the booklists by grade in the side bar, scrolling down until you get to Natural History/Science/Science Biography.)   From there we branched out to biographies, books about math, including cryptography, books about different branches of science and, for high school, adult-level books from our shelves. Whatever looks interesting and inspiring is fair game.
Do my children understand everything they read?  Of course not.  In fact, in some cases I knew my teens would probably understand very little of the book they chose for that term.  But that is fine.  It is good to have one's world expanded.  It is good for people to grapple with things too difficult for them.  It is good to realize that the world is infinitely full of things to learn about…and that no human being can learn them all but that God knows them all because he made them.  It is also good to understand that with sincere effort some things do begin to make sense.
Do I test the children on this reading? No, but I do require some sort of response or interaction with the material such as a narration, discussion, book report, poem, project, or even a new code.  For high school, I give these projects a grade and list them under the year's science or math course as science or math reading.
So, how many books do we choose per year?  For high school I require one substantial book in both math and science per trimester—that's 6 books total each a year.  Of course, if a book is very long or difficult, my teens do not have to finish it completely or if they wish to, they may take extra time.  For younger children, I require one book or book chapter a week in one of math, science, or history, with a fair balance between them all.  Picture books are fine, because they often introduce completely new people or concepts.  Our goal is to learn new information, not to meet a certain reading level.
God has made a world that is full of amazing phenomena and creatures and that is so mysteriously related to mathematics.  Our God is great, and the things He has made show us that greatness. We should be interested in them, both by observing them ourselves and by reading about them.  Praise the Lord!