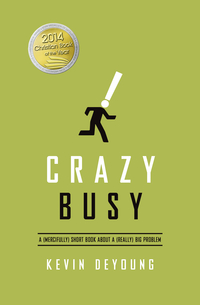 I've been puzzling how to meet my increasing commitments without losing balance and getting my priorities all mixed up.  In fact, this very week I had to make some major time-related decisions, and I just did not know how.
Then God sent Crazy Busy my way.
Subtitled A (Mercifully) Short Book about a (Really) Big Problem, Crazy Busy deals with the spiritual issues behind busyness.  I know about the practical aspects of time management, having read dozens of books on that topic.  But the spiritual side of this problem, ah, that is a different matter.
Of course, I knew there were spiritual issues at stake.  There always are.
But I did not know what they were, and in this book Kevin DeYoung outlined them so clearly:
Pride in all its manifestations, from people-pleasing to perfectionism… to too much posting.
Trying to do what God does not expect you to do or, more provocatively, assuming you need to take on His responsibilities.  But 'not all opportunities are obligations.'
Not setting priorities. Since we are finite and cannot 'do it all' we need to think prayerfully about what we are called to do.
Thinking that your children's eternal future is in your hands (and for homeschoolers who invest so much in their children, this is certainly a temptation).  Obviously there are (many) things Christian parents need to do, but assuming we have God-like influence on our children is not one of them.
Letting screens control you and keep you from being still and alone with God.
Refusing to rest or, again more provocatively, refusing to accept that you are human and have limitations.
Obviously, this book is not written for people who are lazy, uncommitted, and unmotivated.  Other books have been written for them.  This book is written for the Marthas of the world, male and female, who have a hard time understanding Jesus' praise for Mary.  Remember, she sat at his feet listening to him while her sister Martha was crazy busy doing all the work.
How should we understand that?  It's not that working hard is wrong.  In fact, we are called to work.  Even being crazy busy is, at times, part of our calling.  Here I think of parents of baby twins, of farmers at harvest time, of students during exams.
In fact, serving God in our work is important.  It is what we are called to do.  The vital fact to remember, though, is that 'the only thing more important than ministry is being ministered to,' and this is the good part that Mary chose.  This is the good part we often miss when we are crazy busy.
DeYoung's Crazy Busy was invaluable to me as I planned our studies and activities for the next school year.  I highly recommend it if you are overwhelmed by your to-do list, frantically running from one task to the next.  Even if you are simply trying to plan your commitments wisely to avoid being crazy busy, this book will give you helpful insights.
—
I just discovered a free study guide to Crazy Busy is available from Crossway Books.  This short workbook will help you apply DeYoung's insights to your own life.
For those who find themselves much too busy doing good works, I also recommend The Spiritual Danger of Doing Good (link is to my review), an excellent companion to Crazy Busy.
I have also reviewed some hands-on books for over-busy moms who are trying to understand how to bring sanity back to their lives:
Balanced (always pointing us back to God, but also intensely practical)
Tell Your Time (streamlined, short, and 100% practical)
Say Goodbye to Survival Mode (inspiring as well as hands-on)
—
This is yet another book in the in the 2014 52 Books in 52 Weeks Challenge and is also linked to Saturday Reviews, Works for Me Wednesdays, Booknificent Thursdays, Raising Homemakers, Finishing Strong , and Trivium Tuesdays. 
Disclosure: I borrowed this book and am not compensated for this review in any way.