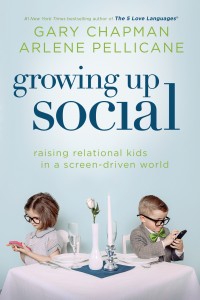 All parents sometimes wonder about the amount of time their children spend interacting with screens.   Most of us question, at least occasionally, if it is a good thing.  But, since we are the first generation of parents to deal with these issues, we often do not even know exactly what the issues are, let alone how to address them.
Gary Chapman (of The 5 Love Languages) and Arlene Pellicane have waded through all these questions in their book Growing Up Social:  Raising Relational Kids in a Screen-Driven World.  In a chatty style with plenty of anecdotes they discuss the basics of raising children who can relate well to others, not only to screens. They also highlight scientifically proven negative effects of excessive screen time.
Their main question is:  Is it possible for children to learn about relationships and responsibilities when the vast majority of their time is spent absorbed in a screen?
One of their responses is that many children have too much screen time too early in life.  They are missing out on time with their parents, play, down time, reading, exercise, and learning.  Parents must dare to do what is best for their children despite the children's protests.  It takes time to teach and learn the basic relational skills of showing affection and appreciation, managing anger, apologizing, and paying attention, and much of this valuable learning time has been swallowed up by screen time.
What's more, too much screen time reinforces tendencies toward shyness, changes brain structure, squeezes out time to show your child love, reduces security, and undermines your parental authority.  And, it's not only your child's screen time that matters; many of the same negative effects result when parents are too busy online.
The book encourages a simple 2 hour a day limit on screen time for children, and reminds parents that they need to take charge of raising their children and need to learn how to show them love.  This book is meant to empower parents to take charge of their family's—and their own—time.
I recommend Growing Up Social to anyone who wants Christian guidance about raising children in our high tech world.
Growing Up Social contains a list of group discussion questions as well as links to help you determine your family members' love languages and to help you teach them relational skills.  For more information see The Five Love Languages website.
This is yet another book in the in the 2014 52 Books in 52 Weeks Challenge and is also linked to Saturday Reviews, Works for Me Wednesdays, Booknificent Thursdays, Raising Homemakers, Finishing Strong, Mom to Mom Monday, and R&R Wednesdays.
Disclosure: I received this book from Side Door Communications and Moody Publishers in order to review it.  I have expressed my own honest opinions.