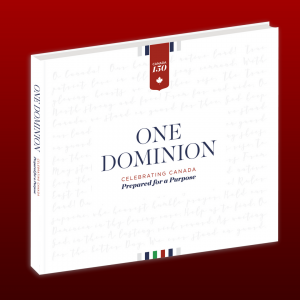 Canada is not a nation of one story alone, but of many stories, from ordinary people, and often ordinary people of faith, who helped form the foundations of our wonderful country. This book takes time to pause and reflect on the stories of these ordinary men and women of God who contributed to the fabric of our nation. Let us not just celebrate the blessings we enjoy today because of them, but learn from their example and, as we look to the future of our country, perhaps be inspired to action as well. (Chapter 1)
In One Dominion, Richardson and Beasley of Bible League Canada have put together a celebration of Canada for this anniversary year. The vision of this book is compelling.  The authors discuss Canada's history; how Canada was based on Christian principles; and how the institutions and laws that made Canada great were often the result of the work of dedicated Christians serving God.
Here is an outline of this unique work:
Part 1:  One Dominion Named Canada
Ch 1:  This is us—Canada compared to the rest of the world
Ch 2: From village to dominion—timeline focusing on 1600's, 1700's, and 1800's
Ch 3: Exploration leads to confederation—a brief partial history
Ch 4: In stone, on paper, in song—Bible texts in the Peace Tower, God-references in the Canada Act (1982), the religious background and content of our national anthem
Part Two:  Our National Mandate (dominion from sea to sea, Ps 72:8a)
Ch 5:  Transformed lives form a nation—every edifice has a foundation and the stability of that structure is dependent upon the strength of the foundation; the Word of God was Canada's foundation; public education; post-secondary education; health care and hospitals
Ch 6: Philanthropy—Canadian Christians, as individuals and institutions, are very generous in philanthropy and charity with both money and time
Part Three—Our international mandate (from the river to the ends of the earth, Ps 72: 8b)
Ch 7:  The transformation of nations—God prepares people and nations for roles; he thinks in decades and centuries
Ch 8:  For the greater good—"Our nation was formed by people who were transformed by the Living Word of God" and every single pillar of Canadian society is founded on its truths.  Such people were not only politicians and clergy,  but ordinary people have played and can play a transformative role as well
Ch 9:  From this nation to the nations—"As churches were started, lives were transformed.  As lives were transformed, they transformed society."  Such a foundation and such journeys of transformed people are the cause of our blessings as a nation; if we share God's Word with people in other countries, their transformed lives can transform their culture, too.
Conclusion:  May God have dominion from sea to sea and from the river to the ends of the earth.
Stunning photographs are scattered throughout the book.  From Canada Day celebrations and famous buildings to inspiring nature scenes and thoughtful depictions of our people, many aspects of Canada are represented.
Interesting stories appear as well, from the first schools, universities, and hospitals, to biographies of often-forgotten heroes whose efforts transformed our country (e.g. Dr. John Clinch, Emily Murphy, Manitoba's Premier Norris, Egerton Ryerson, William McMaster, Tommy Douglas, Elizabeth McMaster, John Joseph Kelso, Judy Graves, Edward and Mary Cridge, Wilfred Grenfell, Oliver Mowat).
Authors Richardson and Beasley had a beautiful vision and did a lot of research to develop it.  Unfortunately the execution of their vision is not of the highest quality.  The writing style is scattered and the editing is not up to professional standards. Furthermore, the book lacks a table of contents, page numbers, and picture captions; with its many interesting tidbits it should have an index as well.  This is probably because One Dominion is not meant to be a standard book (it is not even sold on Amazon, for example) but more of a giant celebratory brochure.
This beautiful publication, full of inspiration and information, will encourage Canadian Christians.  However, the message deserves a greater audience.  The message should be available in public and school libraries across Canada, for example, and I encourage the authors to transform this into a quality book and promote it widely.  We must not hide the truth about Canada's Christian heritage but spread this information to those who otherwise have no access to it, including school children and those new to Canada.
In any case, for those of you who are Canadian homeschoolers, One Dominion will give your children an inspiring introduction to Canada's Christian heritage, and I encourage you to buy it.
To purchase:  One Dominion is available from Bible League Canada.
—
You might also enjoy these related articles I have written:
How our Heavenly Citizenship Affects our Earthly Countries
Learning about Earthly Citizenship in the Light of our Heavenly Citizenship
—
If you enjoyed this review, you might want to follow me on Google+ where I often mention helpful or interesting ideas, or connect with me on GoodReads where I share what I read. 
This book is part of our multi-year, literature-based Canadian History course . This review may be linked to Finishing Strong , Trivium Tuesdays,  Saturday Reviews, Booknificent Thursdays, Literacy Musings Monday, and The Book Nook.
Disclosure:  We received a copy of One Dominion from Graf-Martin and I am not compensated for this review.