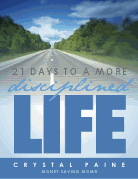 Recently blogger Crystal Paine shared how she was learning self-discipline in her own life.  Some days it worked and some days it didn't, but no matter what, readers responded enthusiastically in the comments.   That series of blog posts has been reworked and expanded into an intensely practical little ebook, 21 Days to a More Disciplined Life.
Crystal covers almost all of the aspects of self-discipline in 21 short readings:  motivation, habits, obstacles, goals, negative thought patterns, accountability, focus, prioritizing, and beating deadlines.  Each day's section ends with a practical application or two.  Crystal also holds your hand through a 21-day 'mega project', something you've been putting off because you don't know where to start.
For example, right on Day 1, after learning how self-discipline is a choice, you'll get the first homework assignment:
Choose a very small project that's been nagging at you and do it in the next 24 hours and
Choose a megaproject that you don't know how to start, break it into 21 steps, and do step 1.
Each day's pep talk and advice is very helpful.  Beside many sensible suggestions, broken into manageable chunks, I found a link that may change my life.  If it works, I'll blog about it soon.  The homework for each day is manageable, too.
So far I've read the book (only 60 pages, with no padding or fluff, nice and short) and accomplished the first few days of practical applications.  I have made lists of big projects, little projects, habits to develop, and goals.  What's more, I have decided which ones to work on now and which ones to leave for later. 
For my small project, on day 1, I compiled and sent in a list of errors I'd promised someone almost a year ago to help with the revision of one of her company's books.  After 10 months of having that nagging me, it was finished.  Such a relief!  And why had I waited so long?  It took me less than half an hour of actual work!
As my megaproject I first planned to organize our books and sell the excess, but soon realized that something else was much more necessary:  We're still harvesting our garden, we're getting 22 chickens butchered in two days, and our freezers are almost full!  With Crystal's encouragement, I was able to move from panic mode to practical action.  So far, we've eaten a lot, reorganized the freezers, and cleared a lot of space by making plum jam and plum sauce out of last year's frozen bumper crop of plums.  Yes, we were the ones that did the work, but somehow Crystal's little ebook helped me to face this huge challenge.  And, after one more day of plum processing, we will have space in our freezer for those chickens as well as for a dozen meals worth of kale that's waiting to be frozen.  (No, we didn't have 21 days for this project, but it sure was mega!) My next mega project, which will take about 21 days, is to complete Mr. 17's transcripts for university applications.
I've calculated that it will probably take less than an hour to do each day's reading, homework, and megaproject segment.  After 21 days I expect to be very, very pleased with my progress and ready to go through the book again after selecting a new megaproject, habit, and goal.
This little ebook is a jewel.  The only thing Crystal is missing in 21 Days to a More Disciplined Life is a strong emphasis on prayer.  After all, self-discipline is one of the fruits of the Holy Spirit, and we need to ask for it as well as work for it.  But we do need to work for it.  Crystal's book helps us be intentional about that.  Therefore, I strongly encourage you to buy the book.
You can get it here.
—
This is yet another book in the in the 2012 52 Books in 52 Weeks Challenge, and is also linked to Saturday Reviews, Better Mom Monday, Encourage One Another Wednesday, Women Living Well Wednesdays, Works For Me Wednesday , Wisdom Wednesdays, Raising Homemakers, and Frugal Friday.
Disclosure  I received a free copy of this ebook in order to review it and was not compensated for this review.  As often happens, I was offered an affiliate link with this book, but as always, I prefer not to risk bias in my reviews.  In order to preserve strict objectivity, Tea Time with Annie Kate accepts no affiliate links.