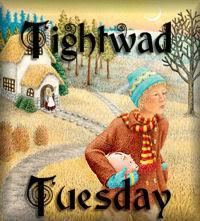 helping each other be good stewards of all our resources: money, possessions, time, energy, and health
Sometimes people do not understand how much money they actually save when they find a deal.
Last week my girls found a judo outfit for Miss 10 at a thrift shop.  To do judo, you need a very sturdy outfit, called a gi (pronounced like 'geek' but without the 'k').  These outfits are expensive but making your own is completely out of the question.
Therefore I was thrilled when the girls showed me their find.  We paid about 35 cents instead of the usual $40, and I felt that this was our deal of the year.
Then one of my children pointed out that this was no ordinary gi; this was a very fancy, name brand gi, and we had saved a lot more than $40.
But had we?  I was planning to spend $40 on a gi for my little girl.  I had spent 35 cents, so I had saved exactly $39.65. The fact that the gi was worth more than $40 does not affect my finances at all, unless I can sell it after the Little Misses outgrow it. (It does, however, make me feel good, and that's great, but financially it makes no difference.)
Now, here's a vital concept: 
The amount of money you save on a deal is the difference between what you would have spent and what you did spend.   
Note that it's not the difference between what you could have spent and what you did spend.  In fact, if you would not have spent the money first place, that 'deal' did not save you anything but actually cost you money.
Now, I'm all for buying top quality, and I'm all for having a little extra money set aside to be able to snag a good deal when it shows up.  But if I have no need for a certain gizmo, and get a deal on it for $100 instead of $1000, I haven't saved $900; rather, I've wasted $100.  That's all fine and dandy if I have that $100 to spend, but if the budget is tight, I could quickly bankrupt myself by finding such 'deals.' And then I might be wondering what had happened, since I had just 'saved' thousands of dollars.
Please join in and share your Tightwad Tuesday tips, ideas, stories, and encouragement.  Just click on the Linky Tools message below to enter your post. Then enjoy learning from the wonderful ideas of others.  Please remember to link back to Tightwad Tuesday so that others can join in as well.
Powered by Linky Tools
Click here to enter your link and view the entire list of entered links…
***************
For more ideas, visit Tuesday's Tips , Tuesday's Tip Jar, Works for Me Wednesday, and Thrifty Thursday.