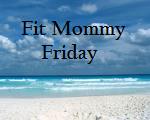 encouraging each other to care well for the bodies God has given us
My personal goal is to regain strength after a debilitating illness so that I can live a healthy, active life with my family.
Your goal may be to lose weight, look better, feel better, or run a marathon.  Whatever it is, please join Fit Mommy any time, no matter what your current level of fitness is.  You can check in using the comments at the bottom of this post.
Between ice and mud, it's been difficult to walk outside.  Spring, however, will come soon, although we're expecting a 'storm' today with about 4 inches of snow.
My children have caught a nasty cold, and I've been fighting it for a while.  We're all feeling a bit weak. When I feel a cold coming on, I immediately take action with garlic, extra sleep, vitamin C, and salt water gargling. It usually works. I've noticed that it is difficult for the children to recognize the beginnings of a cold, so they don't start to fight it until they are hoarse, coughing, and generally in bad shape.  Even so, we are grateful that we have needed antibiotics only three or four times in the last 19 years; many families we know need them more than once a winter.
Obviously, I haven't done any strenuous exercise, but I did better than ever on the simple ones:
Record my fitness accomplishments each day…Yes.
Do 6 repetitions of my eye exercises 5 days a week …I did them 6 times, and plan to increase the repetitions to 7 times a day!
Go for a daily walk and average 6100 steps a day … No. I went for a few walks, but the snow in the woods has undergone so many freeze-thaw cycles of warm days and cold nights that it is very icy.  I discovered it takes stomach muscles to walk on ice!  So I tried walking beside the road, but the mud is soft during the warm days and it's terribly exhausting walking in mud.  The last two days I was astonished at the low number of steps; I've had this happen before when I wear certain jeans, and it may be that the pedometer doesn't work so well with them. I may calibrate it later and revise my step totals for those two days.  Here is the record of my daily steps for the week:  5400, 7100, 7100, 5100, 3800, 4500 for an average of 5500.
Do 6 repetitions of my physio exercises 5 days a week … No, but I did parts of them three days.
Do 5 repetitions of my organ keyboard and pedal exercises, 5 days a week… Yes!  As a bonus, my exercises are the same ones the children play and they enjoy that.  I'm not going to increase the repetitions of these but just change the exercises.
T-Tapp: Learn 2-3 pages of Fit and Fabulous each week, and practice what I know daily.… Nothing from T-Tapp this week.
Avoid sugar five days a week … Yes.  And I feel much better, as I knew I would.
Eat lots of vegetables, including fresh ones, and yoghurt … Yes.  We ate from the freezer and also found discounted dragon fruit and a whole shopping cart of delicious vegetables.  We enjoyed some yoghurt.  Would it be possible to go a whole year without eating anything with an unpronounceable name?  I wonder.  People used to do it.
Relax daily…Yes.  We went to bed very early and gave ourselves time to rest.
Have fun with the kids, including active fun…We were not interested in active fun.  However, we laughed, chatted, read aloud, and played many games.
How about you? Did you exercise, eat well, and relax happily this week? Let's encourage each other to care well for the bodies God has given us. Please link up your health and fitness post in the comments below, and don`t forget to link back here from your post. Then enjoy visiting and encouraging other Fit Mommies just like you.
Note:  Fit Mommy Friday is the Health and Fitness Check-In column of The Christian Home Carnival.