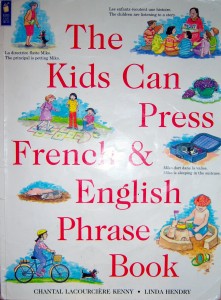 Welcome to the cheerful world of Rose and Jordan who celebrate Grandma's birthday, go to school, shop, visit cousins, build a sand castle, enjoy a farm, and finally fall asleep…in French and English.
Each two page spread in this beautiful 40-page book covers one activity, giving French phrases with English translation underneath them.  By the end of the book, the children know more than 200 basic phrases and expressions and have been exposed to many grammatical concepts, including a handful of common irregular verbs.  A word list at the end of the book list numbers of the pages where a word is used as well as its translation.
Note that no teaching guide or pronunciation aids are given.  You need to know some French to use this book with your children.
Every few years, we go through this book, studying a two-page spread each week.  We keep it very simple.  I just read the French and the children repeat after me.  After a few days of this, I read the English, and the children tell me the French.  We review a lot.  I have asked older children (at middle school age) to copy out the French phrases, just to get used to French spelling before starting formal language studies, but we are not currently doing that.
My oldest three children began their French studies with this book.  It lays a cheerful and effective foundation for formal language studies. It has also given our family a shared group of phrases linked, in our minds, to Rose and Jordan's happy world.
Right now Miss 9 and Miss 11 are working on this book with me.  They love it and are thrilled when they can tell me the French phrases.  The only thing they are displeased about is that we are going too slowly and that I don't want to study the next pages as well.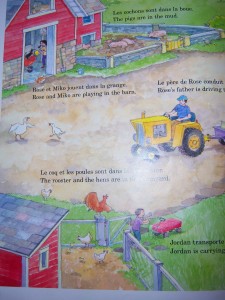 Studying The French and English Phrase Book is a small oasis in my day because of the illustrations.  I love Linda Hendry's soothing and colorful pictures full of greenery and family life.
Our family loves this book.  We highly recommend it to other parents teaching their children French.
The Kids Can Press French and English Phrase Book goes very well with the Kids Can Press French and English Word Book.  Both are available from Amazon, but may also be in your library.
This review is linked to Read Aloud Thursday.
Disclosure:  I have used this book for many years and am not compensated in any way for this review.