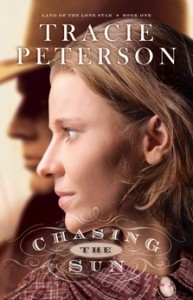 Life in Texas during the Civil War was hard enough for motherless Hannah Dandridge and her little brother and sister even  without the Indian raids.  Hannah's father had gone to visit her ailing grandmother, so responsibility for the children and the family ranch fell on her shoulders. 
Herbert Lockhart, her father's partner, was doing his best to oversee things at the ranch—against Hannah's wishes, mind you. However, no one had anticipated the arrival of William Barnett, come home from the war to discover that his ranch had been given to Hannah's family.  Now what?  And who could Hannah trust? 
Beautiful Hannah is an endearing character.  Impulsive, kind-hearted, human, trying hard to do the right thing but often doubting herself, she struggled to deal with impossible conflicts.  Would she really have to choose between love and the siblings she had raised?  Who would get the ranch?   What about the messages Herbert Lockhart brought from her father?  And what about the man she was beginning to love?  
Smallpox, buried treasure, intrigue, love, evil, and the gospel all combine to make this an inspiring story full of excitement and grace. I highly recommended Chasing the Sun as light reading and as a reminder of God's goodness.  I'm going to be looking for more books by Tracie Peterson.
Disclosure: This book has been provided courtesy of Baker Publishing Group and Graf-Martin Communications, Inc. and is available at your favorite bookseller from Bethany House, a division of Baker Publishing Group.
This is my 18th book in the in the 2012 52 Books in 52 Weeks Challenge, and is also linked to Saturday Reviews.