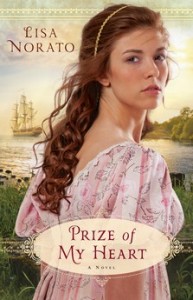 Early one 1815 morning Lorena Huntley met a stranger in her father's ship yards.  The same morning, Captain Brogan Talvis encountered a skinny scullery maid, and five year old Drew felled a giant with his slingshot, just like David felled Goliath.
So begins this heartwarming story of Captain Talvis hunting for the son his late wife had given away, while he was at sea.  Why had she done that?  Where was little Ben, and how could he get him back?  What mystery was the beautiful Lorena harboring?  And why, oh why, did it seem that God looked upon him with indifference?
Lorena, maker of sweets and heart of her family, became the main obstacle between Captain Talvis and his son until the unthinkable happened and she disappeared.  Can she be found?  Can the captain recover his son?
This wholesome, exciting, and thoroughly satisfying novel is a perfect escape.  It filled my mind with the sights and sounds of a harbor town, delicious food, and happy family life, and then it returned me to my own world, contented and enriched.
Disclosure: This book has been provided courtesy of Baker Publishing Group and Graf-Martin Communications, Inc. and is available at your favorite bookseller from Bethany House, a division of Baker Publishing Group.
This is my fifteenth book in the in the 2012 52 Books in 52 Weeks Challenge, and is also linked to Saturday Reviews.