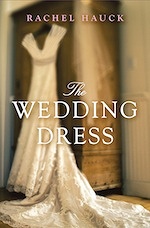 Charlotte, owner of a bridal salon, can't seem to get around to choosing her own wedding dress.  Her fiancé Tim is having a hard time getting down to wedding preparations as well. When Charlotte spends $1000 on a trunk at an auction, Tim is very upset.  But what is hidden in that trunk, welded shut?  And who is the mysterious man in the purple shirt?  And what is true love anyhow?
In another time, another place, Emily discovers that her father has hidden Daniel's letters…but it is too late; she is engaged to Philip.  And marry him she will, but in the gown she chooses herself, not the one her mother wants.  But why is Philip so unpredictable?  And why is everyone upset that she wants a dress made by a colored designer?
Charlotte, Tim, and Emily are loveable people.  They thought and wondered, made decisions and suffered the consequences, grew and changed, and became more and more endearing.  But all the rest of the characters were like a dream, adapting to what they were needed to do, changing and adjusting and appearing when needed, just like the wedding dress. 
At first, The Wedding Dress had me turning pages as quickly as I could, enthralled.  But then I started laughing.  In the wrong spots, I think.  The story was just too surreal for words, like a crazy dream that gets even crazier.  But it was fun, and it was freeing in a strange way.  I'm not sure if I like the book or not; I do know I'll never forget it.   
And at the end, I found out that the wedding dress itself is meant to symbolize the gospel of Jesus Christ. 
 If you like drama, wedding dresses, inexplicable events, pizza, and history with a good dose of modern life thrown in, then you'll like this book.  I think.  If you like allegories, you'll find it intriguing.  Do you want to learn more about this fun, crazy, and thought-provoking story of love and a wedding dress?  You can read more reviews, or buy the book here. 
Disclosure: I received a free copy of The Wedding Dress from Litfuse in order to give you my honest opinion.
This is my 19th book in the 2012 52 Books in 52 Weeks Challenge, and is also linked to Saturday Reviews.