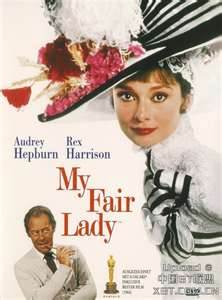 I remember reading Shaw's Pygmalion years ago.  Of course, I did not like 'enry 'iggins very much, but he wasn't meant to be likeable, and, taken as a whole, the play was a lot of fun.
Now, however, I've watched the old 1964 movie starring Audrey Hepburn and Rex Harrison.  With Miss 14 and Miss 12.  And I wish we hadn't.
Sure, we had checked Internet Movie Data Base for objectionable elements. And yes, there was more swearing than I expected.  But what IMDB didn't mention was the blatantly unchristian worldview portrayed in that movie.
First of all was the blasphemy.  I kept expecting it to get better, but it only got worse.
Then, yes, of course, there was the swearing, and there was more of it than I was led to expect.
And there was the drinking.  Bad drinking.
There was the negative attitude to God's good gift of marriage, expressed over and over and over.
There was the hatred of 'middle class morality'. The 'disaster' of living an upright life, of marrying the person one is living with,  and of actually working was captured in catchy music.
And, throughout, the smug complacency of fools was glorified.
In fact, everyone, except for Eliza, Colonel Pickering, and Mrs. Pearce, fit right into the categories of fools described so vividly in Proverbs.  And a 'fool' in the Bible is not a funny, silly kind of person, but a morally deficient person.
Of course, it is possible to show foolish behavior without glorifying it, but in this movie even those who correct the fools, like Professor Higgin's mother, don't encourage wisdom.  What's worse, many of the catchy, stay-in-your-head tunes are full of foolish ideas.
And that is what I let my girls immerse themselves in when we watched My Fair Lady!
Naively I did not immediately turn the movie off.  I expected it to be alright because IMDB had said it was basically OK and because it was almost half a century old.   But of course, people have always been people and Hollywood was certainly no more Christian then than it is now.
I am sad that I allowed my girls to watch this.  I am sad that I exposed myself to this.
Mr. 14 pointed out that at least we hadn't been watching the violence and gore of The Eagle, a realistic movie based on Rosemary Sutcliff's story about Roman Britain.  I despise violence, but would it perhaps have been better to watch something that is obviously not ideal, than to immerse ourselves in subtle evil that masquerades as fun?
—
Unfortunately the Christian movie site Plugged In does not often review older movies.  It would have alerted us to some of these issues.