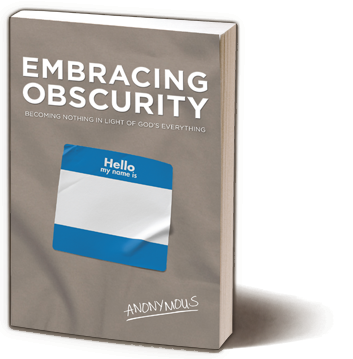 Our world is somewhat crazy about celebrity. Rather than considering humility a virtue, we so approve of pride that a recent book on the topic of self-promotion, Platform, made it to the best-seller lists. Embracing Obscurity: Becoming Nothing in Light of God's Everything stands diametrically opposed to that philosophy. It also stands diametrically opposed to the pride that fills all but the most saintly among us.
We all want to be noticed. Even those of us who think we don't, actually do, according to the anonymous author. I disagreed until I read his list and then I found self-importance in my life, too. We do all want to be known, recognized, appreciated, and respected. In the past humility was considered a Christian virtue and pride a sin while, influenced by secular society, even Christians now call humility 'being a dishrag' and pride 'healthy self-esteem.'
But here are the facts as laid out by the author: 
Each of us is only one of several billion people. 
Virtually all of us were born in obscurity and will live and die in obscurity as well. 
We're here on earth to praise God and glorify him, not ourselves. 
God has reserved dangerous spotlight positions for only a few of us.
The rest of us are called to serve and suffer humbly, in obscurity.
We find our true significance in God, not in fame or in being watched by others.  In fact, Jesus specifically told us not to do our good deeds to gain approval from others.  We, however, are so influenced by the world and our own pride that we do not really understand the concept.  The author helps us in this by comparing true success with worldly success, our Lord Jesus with Satan, and Biblical servanthood with self-glorifying servanthood. 
Of course, some people are called to serve God in the spotlight, but this position carries its own set of temptations.  Only in humility can one truly focus on making God's name great, advancing his kingdom on earth, and serving others.
I agree with the author:  Self-glorification is obviously wrong.  But I would caution that seeking obscurity for its own sake is also wrong. Of course, as humans we tend to self-glorification, and therefore do need an extra emphasis on obscurity as in this book.   However, neither fame nor obscurity should be our goal, but serving God as he wishes to be served, where he has placed us, with whole-hearted obedience.   We need to recognize that our hearts are deep and devious and that Satan loves to convince us that sin is actually not sin at all.  What we really need to do is to set our minds on the things that are above where Christ is, rather than on things that are below.
And, while all of us need to understand and strive for humility, there are those of us who may need to get out of our comfortable anonymity and accept roles that may bring us into the spotlight.
The author has chosen to be anonymous; anything else would have been totally hypocritical.  (Even his family does not know he has written this book.)  Throughout Embracing Obscurity the author, obviously a seasoned writer, has presented a Biblical explanation of and case for obscurity.  Somehow, while remaining anonymous, he has managed to do so with transparency and urgency.   
This book was difficult to absorb.  In fact, it took me weeks of pondering to peel back layers of thought.  I am, after all, a blogger.  I write to encourage and empower other Christian moms in their homeschooling, everyday life, and health, and after putting a lot of effort into a post, I want to ensure that people will read it.  But I'm also happier in the shadows and only immediate family and a very few close friends, mostly homeschooling moms, know that I blog. 
Will I change anything after reading this book?  Yes, I will ask God to let each blog post reach those who would benefit from it, rather than trying to arrange that on my own (funny, how a blind spot like not doing that can creep up on one!).  I will try harder than ever to be sure that I'm serving my family as I ought to before reaching out to the world through my blog.  And, paradoxically, I may become more open to being in the spotlight if called to do so, much as I dislike it.  After all, hiding in the shadows can be just as self-centered as building a platform; what we should do depends on what God calls us to do.
I highly recommend this book to anyone who actively either seeks or avoids publicity.
This is yet another book in the in the 2012 52 Books in 52 Weeks Challenge, and is also linked to Saturday Reviews, Encourage One Another Wednesday, and Women Living Well Wednesdays.
Disclosure: I was given an advanced reader copy of this book in order to prepare this review.