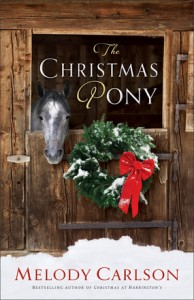 Eight-year-old Lucy Turnbull wants a pony for Christmas, even though she knows it's an impossible dream.
Nonetheless, when her mother puts her to bed, Lucy prays for a pony.  Then, seeing her widowed mother's face, she asks for paying boarders to fill the upstairs bedrooms of their home.  Finally she realizes that what she really truly wants is for her mother to find her smile back, so she asks for that too.
It is late in 1937 and a bad time for the Turnbull boarding house to be empty.  It's also a cold time to be stranded.  When a pale yellow car splutters past her and then quits completely, Lucy invites the two strangers, George and stunning Veronica, to board at her mother's home, setting into motion a train of events that will change everyone's life.
This is a sweet story, deliciously predictable in outline yet fascinating in detail.  It's a satisfying Christmas tale of trust and dependence, an armchair foray into a world where you know good things will happen.
Without the harsh edge of Christmas at Harringtons (reviewed here), or the weirdness of The Christmas Shoppe (reviewed here), Melody Carlson's The Christmas Pony is almost perfect.
If you're looking for wee winter break for yourself or a teen, this story may be just what you need.  Given the popularity of author Melody Carlson, The Christmas Pony should be available in most large libraries.
This is yet another book in the in the 2012 52 Books in 52 Weeks Challenge, and is also linked to Saturday Reviews.
Disclosure: This book has been provided courtesy of Baker Publishing Group and Graf-Martin Communications, Inc. and is available at your favorite bookseller from Revell, a division of Baker Publishing Group.