In my life this week… Well, this week started out with one of the girls having a very bad fever.  She's still coughing badly, and I'm planning a doctor's visit on Monday if she doesn't improve.  All the girls have headaches off and on, and I'm coughing too. 
Not Mr. 17, though.  He was fine until he did something to his toe at judo.  It confused the doctor in our country hospital, so we were sent to a big hospital with a specialist who was so busy in the operating room that it took all day for him to get around to us.   Follow up took all Saturday afternoon.  But Mr. 17 is patient and as chipper as usual, and he'll be alright.  After all, Daddy bought him an enormous salami for his supper. 
Between one thing and another,we are not having an Operation Christmas Child party right now.  Nor did we get as much schoolwork done as we had wished.  Nor did the NaNo writing progress significantly.  Nor did we do any writing or artwork for the annual Legion contest.
In our homeschool this week … We did some.  Can't remember what, though.  The last two days have just been too hectic.  I do recall being satisfied with the progress.
Helpful homeschooling tips or advice to share… Hang in there!
Places we're going and people we're seeing… It's amazing how many people pass through the emergency room in a day!  So much pain, and also so many funny things.
Some of my favorite things this week were…
Having my husband return from a conference
Hearing that Mr. 17 does not need an operation, even though he was forbidden to eat or drink for over 12 hours, just in case
Getting the rooster's deep-throated approval of the fresh bedding in the chicken coop after he carefully checked it over for the safety of his harem
Having Miss 10 discover that she can do her entire day's worth of schoolwork by 11:15 if she focusses on it.  Usually it takes her all day to do most of it.
Questions/thoughts I have… Further on in the 21 Day Self-Discipline Challenge we'll be reminded that there are seasons in life, and sometimes you just have to drop the goals and focus on whatever's happening in your life.  Well, we did do a lot towards our goals, but I've needed to quit focusing on meeting goals and concentrate on meeting needs.  I suppose that's what serving others means.
Things I've been working on…
Getting the children and myself focused on schoolwork, as much as could be expected under the circumstances.
Organizing what I need to do to catch up with my teens' Omnibus work, and then doing it, although it's a lot more work than I expected.
Preparing the garden, house, and chickens for the winter.  The chickens and ducks are almost ready, the asparagus patch is cleaned up, and we've spread a lot of compost over the garden.
The gluten-free blog project is on the back burner until we're all well.
Remembering to walk, eat well, and relax adequately.
We're watching… Anne of Green Gables, which was much better than I recalled.
I'm reading… Deuteronomy. I finished You Shall be Free Indeed by Richard Ganz, A Simpler Season by Jessica Fisher, Life with Lily by Kinsinger and Fisher, Children in Church by Curt and Sandra Lovelace, A Cry From Egypt  by Hope Auer. (Yes, we spent a LONG time in the waiting room!)  I also moved along in Omnibus 2, Omnibus 4, and The Fallacy Detective.
With the kids, I am reading Leviticus. I switched to the RSV version (from the NIV) for some of the uncomfortable bits; it's more discrete, and I must confess that I skipped one chapter when I felt too sick to deal with it.  We also finished Mary Emma and Company by Ralph Moody. It's a great book.
When my husband is home for meals, we're reading Ezekiel.  But, between one thing and the other we haven't had a proper family meal for way too long.
I'm grateful for … Good doctors.
Quote to share…  I found this on Our Side of the Mountain.  Love it!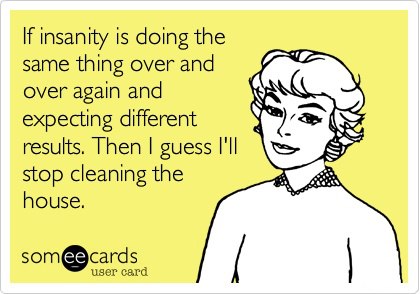 **********************
This post is linked to The Homeschool Mother's Journal and to Weekly Wrap Up at Weird Unsocialized Homeschoolers.