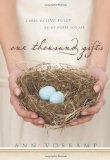 We are each given one life to live.  How do we live it well?  Homeschooling mom Ann Voskamp addresses this question in her lyrical bestseller One Thousand Gifts as she wrests everyday meaning from a Greek word, eucharisteo.
One Thousand Gifts is the author's journey to understand heartbreak, faith, daily life, and God's goodness.  After a childhood tragedy almost destroyed her and her family, Ann struggled with depression, struggled to understand God, struggled to understand how to live her one life well.
When a friend challenged Ann to list 1000 things she loved, she began, slowly, to write them down.  She learned to see the blessings in her life, learned trust, and discovered joy.  It was not an easy journey, and there are no easy answers, but this she discovered:  the answer to the question of tragedy is eucharisteo, giving thanks.
In fact, the key to our life as believers is giving thanks.  Whether or not we have tragedies in our past, we often forget to thank God for what he gives us. We focus on the deadlines, the dusting, the debt, and the daily grind rather than noticing the many gifts that God sprinkles on our paths.
One of the joys that God sprinkled on my path is the lovely writing in this book, about children and light on a mound of grated cheese and farming and running after the moon.  Ann does not simply tell us of her journey, she takes us along and helps us see the reality behind what we see.  She encourages us to give thanks in all circumstances and shares the discovery that, in giving thanks for the life she already had, she found the life she'd always wanted.
Years ago, I skimmed through One Thousand Gifts and was disturbed by theological issues.  Skimming, it is easy to take statements out of context and, not understanding, to criticise.  Reading more carefully this time, I understood Ann's train of thought, and  I was shocked to see that where I thought Ann was at her most mystical and daring, she quoted John Calvin who sounded even more so.
Are there theological issues?  I cannot be sure; this book addresses the heart and the spirit, and I have not translated it into theology.  Others have, and caution is advised.  But this I know:  One Thousand Gifts is one of those books that needs to sit on an accessible shelf.  I will circle back, ponder, and reread as I grow in faith and thanksgiving.  Perhaps then I will understand it more fully.  In the meantime, I focus on thanking God for the one great gift of salvation and the millions of other gifts besides, and I encourage my children to do so as well.
If you have not read One Thousand Gifts, you should.  It will change your life.
This is yet another book in the in the 2013 52 Books in 52 Weeks Challenge and is also linked to Saturday Reviews, Encourage One Another Wednesday, Raising Homemakers, Growing Home, Above Rubies, Wisdom Wednesday.
Disclosure:  I received a free copy of this book from Shelton Interactive for the purpose of this review.  A positive review was not promised, and no compensation was received.