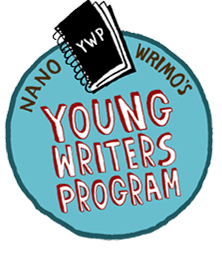 This Friday, all around the world, the writing frenzy of NaNoWriMo begins again.  During NaNoWriMo, National Novel Writing Month, thousands of people world-wide challenge themselves to write a novel.  Yes, a complete novel in a month—an unedited novel, mind you, but a novel none the less.
My kids have participated in the Young Writer Program for years, and I've been tempted by the full-blown version too.
Here's how NaNoWriMo works for kids:
You sign up, select a word count goal for your novel (suggestions are available for different ages), and access resources to help you plan your novel. Then, on November 1, you begin to write, and you continue to write furiously unil November 30.  If you meet your novel's word count goal (which you can change until November 24), you 'win' and later you can get 5 free paperback copies of your book from Create Space.   There's no excitement like getting a copy of a book you wrote yourself.
After the novel is written and you've had all of December to recover, NaNoWriMo offers editing advice.  My kids never took advantage of this; they had written a book and that was good enough for them.  They got their paperback copies completely unedited.  And that's OK.  Even the first draft of a novel is an amazing accomplishment.
Obviously this project takes time.  What about all the other schoolwork?  I have come up with a good solution.  Some might even call it a bribe.  Each time my kids participate, I cancel all spelling, composition, grammar, and literature for the month.  Writing a novel takes care of each of those very well, giving real meaning to them.  Once a teen has struggled with plot, setting, conversation, and character, novel analysis becomes an entirely different thing.  After putting quotation marks in all 2000 words of a story, an early elementary child will understand what they mean.  And so on.
Writing a novel in a month, whether it's 35,000 words for a high school student or 2000 for an 8 year old, involves focus, planning, scheduling, and dogged determination as well as the complex process of putting people and events on paper.   It's a huge growing-up experience and an incredibly empowering accomplishment.
If you want extra assistance to guide your young novelists, you can sign up with NaNoWriMo as an Educator.  This will give you access to information that will assist you in teaching your students how to plan their novels as well as other support.
The whole NaNoWriMo process is similar for adults, except that the minimum word count goal is fixed at 50,000 words.  To win, you can write more, but you cannot write less.   And, unlike the kids, you don't get a free paperback copy of your book from Create Space…but some NaNo winners have gotten book contracts from traditional publishers!   Many cities have get-togethers throughout the month for adult writers, if you like writing with a group of others, and the online forums are busy places.
Although I'm not a fan of the 'you can do anything you want to' mindset, writing a novel will show your kids that they can do a whole lot more than they thought they could. It will allow them to dream of accomplishments and service far beyond what they would have thought possible in their pre-novelist days.
Finally, although you can support NaNoWriMo financially if you wish, the program is entirely free.
Disclosure:  As usual, I am not compensated for telling you about this.