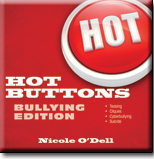 Some issues are so sensitive, controversial, confusing, and potentially life-changing that youth culture expert Nicole O'Dell calls them Hot Button topics.  She has written a series of Hot Buttons books that I desperately wish I'd had years ago. 
A few days ago I reviewed Hot Buttons: Image and today I'm privileged to tell you about Hot Buttons:  Bullying Edition which is similar in many aspects.
Bullying is definitely a Hot Button topic.  It can be very confusing and is certainly life-changing.  With many of the Hot Button topics, young children are exempt, but bullying can affect anyone from toddlers to adults and has affected people through the centuries.
Nicole has written Hot Buttons:  Bullying Edition to help parents help their children deal with this horrible problem.
I think it is difficult, perhaps almost impossible, for young people, whether bullies, victims, or bystanders, to realize with Martin Luther King Jr. that "One's dignity may be assaulted, vandalized, cruelly mocked, but it can never be taken away unless it is surrendered."
As I wrote in my review of Hot Buttons:  Image Edition,
Nicole points out that we as parents also need to be prepared, watchful, and proactive.  The solution is not to insulate our children from the world (and here's where a classical education, challenging as it may be, comes in handy), but to fill their lives God's Word and with wholesome rather than negative activities.  Our purpose is "to safeguard our kids from the wiles of the enemy who whispers lies into their young, eager minds."  We need to pray, be approachable, speak the truth with love, and deal with our own issues. 
In Hot Buttons:  Bullying Edition Nicole deals with the victim, cliques and groups, cyberbullying, self-harm, bullycide, and the bully.  She discusses each topic in detail with personal stories, tips, and encouragement.   This was pretty overwhelming, but then, fortunately, the book got very practical, just as it did in the Image Edition.
The heart of this book is the 15 "Strategic Scenarios" for parents to share and discuss with their children, each with a list of possible responses and discussion points.  I noticed that most of the bullying scenarios involved school.  That makes sense; one of the many reasons for homeschooling is to avoid or minimize bullying.  Furthermore, much bullying involves image and peer pressure in one way or another, and peer pressure among homeschooled young people is often much less than among conventionally-schooled children and teens.
In our situation, where there is minimal bullying, our approach is to try to teach compassion and to encourage our children to reach out to anyone who may feel left out.
When our teens became involved with other groups of young people, however, we have in the past failed to be as vigilant as we should have been.  We did not get to know the other young people (for the very good reason that they lived hours away) and thus we did not catch any of the warning signs.  Truly, as Nicole points out, parents need to put on the armor of God because we're fighting against Satan, an enemy who seeks to destroy in any way he can, and we cannot fight him on our own.  And we need to keep our children close by so we can spend time with them, know their friends and their struggles, and just generally be there for them, as discussed in this book.
Just like the Image Edition, the Bullying Edition includes a discussion of confession and forgiveness for both parents and teens, complete with a guide to welcoming Jesus into your life, prayers, and applications for both ages.
Once again, we do not plan to work through this book formally, but I have learned a lot about the effects of bullying and how to help young people deal with it.  Even if you do not choose to work through Hot Buttons:  Bullying Edition in detail, it provides a lot of insight.  It is certainly worth getting for a church library or a homeschool library and, if your children attend school or other places where bullying often happens, your family should own a copy. In any case, you as a parent do want to read Hot Buttons:  Bullying Edition.
Hot Buttons:  Bullying Edition pairs well with Hot Buttons:  Image Edition which I reviewed a few days ago (for more detailed information about the Hot Buttons series, see that review).
This is yet another book in the in the 2013 52 Books in 52 Weeks Challenge and is also linked to Saturday Reviews,  Encourage One Another Wednesday, Works For Me Wednesday and Raising Homemakers.
Disclosure: This book has been provided by Kregel for the purpose of this review; the review represents my own honest opinions.