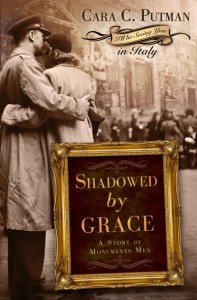 Rachel Justice, an American photographer, is thrilled to get a newspaper assignment to Italy during World War II. She needs the money her photos will earn to fund medical treatment for her dying mother.  However, she's not counting only on her own photography; she's also hoping to find her Italian artist father, a man she's never known and always missed, who should be able to contribute to the treatment costs.
Scott Lindstrom, an art historian, is an anomaly in the US army:  his official goal is not to fight the Nazis but to preserve Italian art as part of the Monuments Men effort.  And his secondary assignment is to keep pretty Rachel Justice, now known as Captain Justice, safe in war-torn Italy.
Inevitably sparks fly as both Rachel and Scott pursue their missions, heading north with the troops who are pushing back the Nazis.  Will Rachel get the pictures she needs?  Will her mother survive?  Will she find her father?  And will Scott win the confidence of local art curators in order to be able to help them?
While the story of Italian art in World War II is portrayed vividly, the novel falters, perhaps because of its unclear plot.  Some characters' actions are not properly motivated, and, despite the horrors of war and Rachel's urgent personal quest to save her mother, the main emotions are romantic. However, the characters, especially Rachel, are memorable and easy to identify with.
This Christian book is worth reading as an introduction to the Monuments Men story, which is fascinating.  Author Cara Putman even includes a helpful list of historical works she used for her research.  However, if you are looking for a well-crafted novel, you might want to turn elsewhere.
More information about the historical background is available, and so is a sample chapter.  A movie, not associated with this novel, about The Monuments Men is coming out next month.
Please scroll down for information about Cara's giveaway.  For more reviews, check out the LitFuse page.
One theme of the book is the search for a missing father and how it relates to the search for God.  This issue is carefully addressed in Father Hunger (link to my review).
This is yet another book in the in the 2014 52 Books in 52 Weeks Challenge, and is also linked to Saturday Reviews.
Disclosure: I received a free copy of this novel from Litfuse in order to give you my honest opinion.
—
Cara Putman is celebrating her latest historical suspense novel, Shadowed by Grace with a fun "Past & Present" giveaway! 
One winner will receive:
A Polaroid Instant Camera
A beautiful antique AFGRA camera (learn more here)
Movie passes to see The Monuments Men movie (with George Clooney and Matt Damon)
Shadowed By Grace by Cara Putman
Enter today by clicking one of the icons below. But hurry, the giveaway ends on February 8th. Winner will be announced February 10th on Cara's blog.

Don't miss a moment of the fun; enter today and be sure to stop by Cara's blog on the 10th to see if you won.