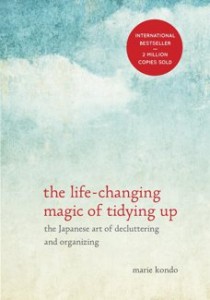 The Life-Changing Magic of Tidying Up by Marie Kondo is a best seller, not only on Amazon and the New York Times, but also internationally.  You're probably thinking the same thing I was.
An international best seller about tidying up?  How is that possible?   
Not being a naturally tidy person (although it's amazing how much one can learn!) but loving the serenity that comes with tidiness, I let my curiosity about this book get the better of me.  And, really, tidying is an important topic for every homeschooling mom because, with children, school supplies, and projects always underfoot—to say nothing of food preparation and laundry and books—a disastrous mess is often only a few minutes away.
Of course, we all know the basic advice:  dejunk regularly, have a place for everything, keep only things you love, and so forth.  But, for some reason, it seems we're always working on it and the process never, ever ends.
Marie Kondo, however, claims that once you've tidied up completely her way, a process that will probably take a few months, you will never need to do so again.  Why?  Because once you experience the joy that comes with a completely tidy home you will never want to go back to the old way again.
There's also another side to this.
Marie Kondo's advice is based on her firm conviction that putting your house in order will help you find the life goal that speaks to your heart.  Not only will living in a tidy house, surrounded only by things that give joy, increase your energy, but the actual tidying process itself will also change you.  By recognizing, item by item, what gives you joy, you learn decision-making skills that enhance your confidence and energy and give you the experience and self-knowledge you need to make decisions about relationships and career…and, for us homeschooling moms, about the many facets of education our children.
This book gives practical instructions on what to tidy first and exactly how to go about it as one learns these decision-making skills.  It is important to begin with simple decisions and to leave the complicated ones to the end.  Step by step, Marie guides the reader through the process.  She is a kind and wise guide.
However, The Life-Changing Magic of Tidying Up may not be an ideal book for most Christian homeschoolers.  Marie was a Shinto shrine maiden for five years and her religious reverence for possessions and her constant communication with them is foreign to us Christians.   This book is such a shocking immersion into an empty lifestyle that it drives me to prayer.
On the other hand, as Augustine pointed out so long ago, truth is truth where ever it is found, and this book has a lot advice that is very different from most Western thoughts on the topic.  There is definitely more than a kernel of truth in what Marie Kondo says about tidying.  What's more, we can also learn to be a whole lot more thankful than we are for all the material goods that God has given us.  Yes, we can learn from Marie about actively thanking God for the things he gives us and also about thanking him for the opportunity to give away the things we no longer use.   Perhaps we should even be asking forgiveness for wrong choices and offering praise for the ability to let things go.
The Life-Changing Magic of Tidying Up is a book about personal transformation due to learning the simple discipline of tidying up one's possessions. This is certainly not a Christian book, but its basic principles of gratitude should be part of every Christian life.  What's more, it gives a deep, authentic look into the thoughts of someone from a Shinto background, helping us understand yet again how much the world needs to learn about Jesus.
If you struggle with tidying up, this book may be for you.  Marie's results as a single woman—never needing to tidy up again— may not be valid for moms and homeschoolers, but they are still at least partly valid.  We just have more to deal with.  In any case, I can vouch that her decision-making approach, where I've used it, is valid and empowering, although I have not gone through my whole house or even major parts of it.
But The Life-Changing Magic of Tidying Up is about so much more than tidying up, as I've tried to show.  I found it a beautiful and poignant book, inspiring in many different ways.
—
Alexandra of Life on a Canadian Island presents an illustrated discussion of how she is using Marie's principles on her clothes,  books, and other things.
—
This is yet another book in the in the 2015 52 Books in 52 Weeks Challenge and is also linked to Saturday Reviews, Booknificent Thursdays, Literacy Musings Monday, and The Book Nook. 
For more encouragement, visit Raising Homemakers, Titus 2 Tuesday, Works for Me Wednesday, Mom to Mom Monday, Monday's Musings, Missional Weekend, R&R Wednesdays, From House to Home, Homemaking Mondays, Good Morning Mondays, Make Your Home Sing Mondays, Faith Filled Fridays.
Disclosure: I received this ebook from the Blogging for Books review program and have expressed my own honest opinions.